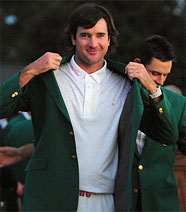 I had the opportunity to watch some of the Master's Tournament this year. I love watching golf (and try to play my hand at it, albeit rather poorly). So I caught some of the Master's on Saturday, and was able to watch the conclusion of it on Sunday.
I was impressed with Bubba Watson's win, and was thoroughly amazed by his unbelievable shot out of the woods and hooking onto the green to capture the victory. But I was unaware of the fact that Watson is a Christian.
He seems to be a solid Christian who is vocal about his faith, and I just wanted to point my readers in the direction of a few articles that make this point clear. I love the name Bubba, and his personality sure is winsome. But knowing we share a common faith makes me respect him even more.
Here are some links for additional reading: