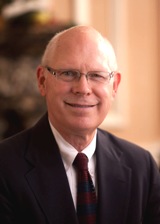 I just listened to a fascinating interview where Mark Dever interviews Greg Beale. He focuses on Biblical Theology and begins the interview by asking Beale his opinion on Bible versions and then a litany of different works on Biblical Theology. They are basically in the Westminster Theological Seminary bookstore and talking about a host of different titles.
Then they go into Beale's background and his studies and books. Very fascinating interview, especially if you've read some of Beale's works. And like Dever would be expected to, he starts off by pointing out the irony that Beale now teaches at Westminster but studied at Dallas Theological Seminary.
Click here to listen to the interview from Nine Marks.
I'm still working my way through his A New Testament Biblical Theology, and finished his The Temple and the Church's Mission last year – both are excellent books.