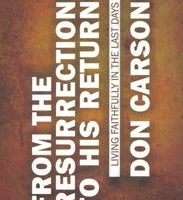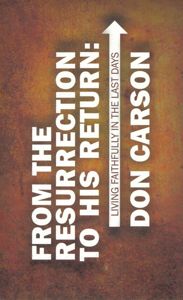 When Christians think of the end times, they usually look up. Christ's imminent return and "being left behind" come to mind, as do signs of the times, beasts, antichrists, and Armageddon. And what's more, there are endless debates over millennial positions, and whether the rapture is pre-wrath, or pre-, mid-, or post-trib. And with such a focus, we tend to miss the main point of Scripture when it focuses on the end times.
D.A. Carson in a short little book from Christian Focus Publications, sets our sights on what's most important when it comes to the end times. In From The Resurrection to His Return: Living Faithfully in the Last Days, he argues that Christians since Paul's time down to today have been living in the age of the end times. And this reality, he argues, should impact how we live and think. In this book he takes us through 2 Timothy 3 and 4, and offers practical reflections on how to orient ourselves in these last days.
The chapters are short, but the points made are profound. Carson writes with a refined style that's been sharpened through his many years of waging scholarly battles for truth, while at the same time basking in the Gospel. He is a rare blend of scholasticism and heart, intellect and emotion, humility and widespread renown. He shares a good many gems of wisdom in the pages of this book, which make it well worth picking up (or downloading to your e-reader).
Sometimes the simple truths are the hardest to see and live out. So what Carson offers us in this devotional study is as helpful as when he gives us 400 more pages with hundreds of footnotes (in one of his commentaries, perhaps). He presses home the importance of mentoring, of speaking the Word to others, and the dangers of false teaching. He shares poignant insights as in his contention that when Paul refers to evil men waxing "worse and worse", that he does not mean that each generation gets worse. Rather it is that "evil people get worse and worse". I don't want to steal Carson's thunder in rehashing all the best parts of his book, but I do want to provide an excerpt to give you a feel for his style and to encourage you to pick up this little book.
Some who go by the name of 'Evangelical' view the Bible in such scrappy atomistic bits that they can find moralising lessons here and there, but cannot see how the Bible gives us the gospel of Jesus Christ. But the Bible is not a magic book, as in: "A verse a day keeps the devil away". It is a book that points us to Jesus, and this Jesus saves and transforms…. These Scriptures make you "wise for salvation".
With the book's catchy cover, the author (and his appeal), together with the subject matter (the end times), I have to admit that I was hoping for more. But even with the shorter length of this work (60 pages), there is much value. Hopefully for some, it will introduce them to D.A. Carson and make them want more. For others, it will provide a helpful reminder of the main point concerning the Bible's end-times teaching. And for all who pick up this book, it will be both an encouragement and a challenge. May Christ come quickly, and find his people "living faithfully in the end times".
Pick up a copy of this book: Westminster Bookstore, Monergism Books, ChristianBook.com, Amazon.com, BarnesandNoble.com, or direct from the publisher. Or get the ebook from Amazon, or Monergism Books.
Disclaimer: This book (the Kindle e-book version) was provided by Christian Focus Publications. I was under no obligation to offer a favorable review.
About Book Briefs: Book Briefs are book notes, or short-form book reviews. They are my informed evaluation of a book, but stop short of being a full-length book review.