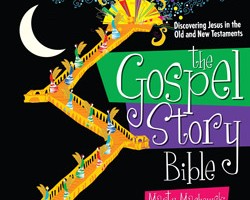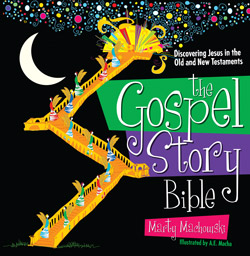 Book Details:
• Author: Marty Machowski
• Category: Children's Books
• Publisher: New Growth Press (2011)
• Format: hardcover
• Page Count: 328
• ISBN#: 9781936768127
• List Price: $29.99
• Rating: Highly Recommended
Review:
As the father of five daughters, I have had ample occasions to read Children's Bible storybooks. The majority of such storybooks are quite simple and to the point. They don't often interact with the story at a child's level other than to make the tale more imaginative and seem more story-like. Few storybooks really serve believing parents well.
The Gospel Story Bible by Marty Machowski (New Growth Press, 2011) is much different. It is uniquely designed to help facilitate the parents' task of teaching their children the Gospel, as they recount the various stories in the Bible. The stories include discussion questions at the end, and are usually presented in a fairly straight-forward, stick-to-the-text manner. Sometimes, however, a little more explanation is woven into the story. And each story wraps up with an application to the Gospel or to the flow of redemptive history. The book's emphasis is on communicating the Gospel intent of the Bible stories rather than on wowing the children and parents with how imaginative a reshaping of the Scriptural story this new storybook can provide.
My children appreciate the sheer number of Bible stories covered by this book (78 stories from each testament) – many of which are not addressed in other, smaller Bible storybooks. And the vivid colors and interesting illustrations also enthrall their young minds. The illustration style is unique and more artistic than you'd expect. The intent is not to depict a true-to-life version of the story so much as to provide an intriguing image that illustrates it. For my part, I think this style is perfectly suited to the book's overall feel with its bright and colorful pages. Sometimes the smaller font, which is often colored white against a dark color background, can be hard to read however. But the size of the font helps keep the stories at two pages in length, allowing the book to stay fairly compact even as it covers a large number of stories. The glossy hardcover makes the book attractive yet also keeps it sturdy and durable.
The author's aim in producing this book is stated in its sub-title: "Discovering Jesus in the Old and New Testaments." And the book dovetails well with a Sunday School curriculum covering both the Old and New Testaments that has also been developed by the author (and published by New Growth Press). This curricula along with the storybook, would also serve well in a homeschool setting, as children of a wide variety of ages will be blessed and instructed through this material.
I encourage Christian parents everywhere to pick up a copy of this book. Check out some sample pages and even explore the available SS material as well. We would be remiss not to add one more tool to our arsenal as we aim to teach our children the Bible. And of course just learning facts isn't the key, we hope they learn and embrace the Gospel. And this is what makes The Gospel Story Bible so compelling. I highly recommend this book.
Author Info:
Marty Machowski is a Family Life Pastor at Covenant Fellowship Church, a Sovereign Grace Ministries church in Glen Mills, Pennsylvania, where he has served on the pastoral staff for twenty-four years. He is the author of the Gospel Story for Kids series including Long Story Short: Ten-Minute Devotions to Draw Your Family to God and the Gospel Story Curriculum. He and his wife Lois and their six children reside in West Chester, Pennsylvania.
A.E. Macha, BFA (Illustration, Arcadia University) is married with two children and lives in Philadelphia. Anne teaches art at a local school and has developed her illustration style through exploring art and design in diverse cultures.
Where to Buy:
• Westminster Bookstore
• CBD
• Monergism Books
• Amazon
• New Growth Press
Related Media:
• Book preview: OT preview and NT preview
• Author interview about this book
• Gospel Story for Kids website
Disclaimer:
This book was provided by New Growth Press for review. I was under no obligation to offer a favorable review.