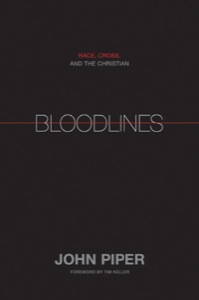 In reading through Bloodlines: Race, Cross and the Christian by John Piper (Crossway, 2011), I came across a section where Piper clearly explains his view of "limited atonement". He says something to this effect elsewhere, I believe, but the section as found in this book is very helpful. I recommend Piper's booklet length explanation of the five points of Calvinism as perhaps the best introduction to Reformed theology available for a layperson. His booklet was very instrumental in my conversion to a Reformed viewpoint.
Anyway, what follows is most of Piper's explanation and defense of "limited atonement" from Bloodlines, his latest book:
————————————-
Hand in glove with the doctrine of our disabling depravity is the doc­trine of God's effective purchase of his people on the cross. The reason it's like hand and glove is that our inability because of sin calls for a kind of redemption that does more than offer us a forgiveness we don't have the ability to receive. Rather, it calls for a redemption that effectively purchases not only our forgiveness but also our willingness to receive it. In other words, the unwilling glove of depravity calls for the insertion of a powerful hand of ability-giving redemption.
Sometimes this doctrine is called "limited atonement." It's not a helpful term. Better would be the terms definite atonement or particular redemption. The reason limited atonement isn't helpful is that, in fact, the doctrine affirms more, not less, about Christ's work in redemption than its rival view called "unlimited atonement."
The view of unlimited atonement takes all the passages that say the death of Christ is "for us" (Rom. 5:8; 1 Thess. 5:10), or for his own "sheep" (John 10:11, 15), or for "the church" (Acts 20:28; Eph. 5:25), or for "the children of God" (John 11:52), or for "those who are being sanctified" (Heb. 10:14) and makes them refer to all human beings. In this "unlimited atonement" view, the sentence "Christ died for you" means: Christ died for all sinners, so that if you will repent and believe in Christ, then the death of Jesus will become effective in your case and will take away your sins.
Now as far as it goes, this seems to me to be biblical teaching— salvation is offered to all because of Christ. But then this view denies something that I think the Bible teaches. It denies that Christ died for his church—his bride (Eph. 5:25)—in any way different from the way he died for unbelievers who never come to faith.
There is no dispute that Christ died to obtain great saving benefits for all who believe. Moreover, I have no dispute with saying that Christ died so that we might say to all persons everywhere without exception: "God gave his only begotten Son to die for sin so that if you believe on him you will have eternal life."
The dispute rather is whether God intended for the death of Christ to obtain more than these two things—more than (1) saving benefits after faith, and (2) a bona fide offer of blood-bought salvation to every person on the planet. Specifically, did God intend for the death of Christ to obtain the free gift of faith (Eph. 2:8) and repentance (2 Tim. 2:25)? Did the blood of Jesus obtain not only the benefits that come after faith but also the gift of faith itself?
We want to be biblical. Does the unlimited atonement interpretation of any of the "universal" texts on the atonement necessarily contra­dict this more that I am affirming about God's intention for the death of Christ—texts like John 1:29; 2 Corinthians 5:19; 1 Timothy 2:6; Hebrews 2:9; 2 Peter 2:1; and 1 John 2:1–2?
I don't think so…
…The fact that God makes salvation possible for all through the blood of Christ does not contradict the view that God does more than that through the death of Christ. I don't affirm that God does less but that he does more. He actually secures the salvation of his chosen people. He secures all the grace needed for their salvation, including the grace of regeneration and faith.
Paul says in Ephesians 5:25, "Christ loved the church and gave himself up for her." This was a particular redemption. Christ had his bride in view differently than he had all in view. He knew his bride, and he wanted his bride, and he bought his bride. Jesus says, "I lay down my life for the sheep" (John 10:15). He said, "I am praying for them. I am not praying for the world but for those whom you [Father] have given me, for they are yours" (John 17:9). He said, "And for their sake I consecrate myself [to die], that they also may be sanctified in truth" (John 17:19). In other words, Christ had a specific design in his death for the sake of his people—the cross would be sufficient for the salvation of the world, but efficient for his sheep, his bride.
And Paul carried through this understanding of Christ's work when he said in Romans 8:32–33, "He who did not spare his own Son but gave him up for us all, how will he not also with him graciously give us all things? Who shall bring any charge against God's elect?" God's elect in verse 33 are the same as the "us all" in verse 32. This group, he says, will most surely receive "all things." God will see to it. And the reason Paul gives is that Christ did not spare his own Son but gave him up "for us all." That means that the giving of the Son guarantees all the blessings of the elect.
This does not limit the extent of what the atonement offers. The benefits of the atonement are offered to everyone. If you believe on Christ, they are all yours. But "the Lord knows those who are his" (2 Tim. 2:19). For them, for his bride, he is securing something that can­not fail—their faith and their justification and their glorification. Those for whom he died, in this fullest sense, will most certainly obtain all things—they will finally inherit the kingdom of God. His death is infal­libly effective for the elect.
–pg. 136-138, Bloodlines: Race, Cross, and the Christian by John Piper (Crossway, 2011)
You can pick up a copy of this book at any of the following online retailers: Westminster Bookstore, Monergism Books, CBD, Amazon, Barnes & Noble, or direct from Crossway.
Disclaimer: This book was provided by Crossway Books for review. I was under no obligation to offer a favorable review.