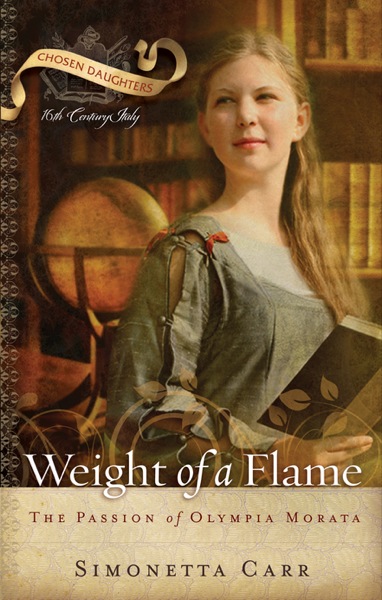 Book Details:
• Author: Simonetta Carr
• Category: Children's Books
• Publisher: P & R Publishing (2011)
• Format: softcover
• Page Count: 256
• ISBN#: 9781596381582
• List Price: $11.99
• Rating: Highly Recommended
Review:
What would it be like to live in the years immediately following the Reformation? How joyful would the discovery of Gospel truth be? Yet, how terrible would it feel to know people close to you, who are suffering for their faith? The turbulent period which followed the Reformation is captured well in a new book by Simonetta Carr.
In Weight of a Flame: The Passion of Olympia Morata (part of the Chosen Daughters series from P & R Publishing), Carr tells the story of a Reformation-era heroine still remembered to this day. Olympia Morata was an Italian tutor and scholar, who embraced the teachings of Martin Luther and John Calvin with as much fervor as her professor father. She was fluent in Latin and Greek by the time she was 12, and at 13, she was summoned to the court of the Duke of Ferrara to tutor his eldest daughter, Anna D'Este. Morata developed into a scholar in her own right, lecturing on Cicero and studying philosophy. And she was known for her poetry, having written her own metrical adaptations of the Psalms.
This obscure historical figure is brought to life through the imagination and pen of author Simonetta Carr. Carr weaves us in and out of the tale of Morata's short life. We share her wonderment at going to court, and learn with her of the terrible plight of French refugees fleeing religious persecution. Morata's relationship with her father and her family is developed and a romance eventually unfolds.
But the story of Olympia Morata has its dark turns. She encounters suffering martyrs and survives a bout with the black plague. At one point her town is besieged and then sacked, and she and her family run for their lives. And at the young age of 28, she dies.
The author doesn't leave us with the bare facts of the case. She infuses the story with Gospel hope. The characters rehearse Scriptural promises to each other and find encouragement in the Gospel. And through this fictional account we can imagine what it really would be like to be there in Olympia's and her husband's shoes living through these difficult times.
Stories like these can help build the faith of our children. This book, directed primarily to girls, will both educate and inspire them. And the story is written well enough to captivate both children and their parents. As the father of five daughters, I can't wait to place Weight of a Flame in their hands. I can't thank the author enough for uncovering another Christian heroine for my daughters to look up to and to emulate. May the hope-filled life of Olympia Morata inspire many chosen daughters to trust the Gospel and risk their lives for the cause of Christ.
Author Info:
Simonetta Carr, mother of eight and homeschool educator for twenty years, has worked as a freelance journalist and a translator of Christian works into Italian. She is the author of the Christian Biographies for Young Readers series.
Where to Buy:
• Westminster Bookstore
• CBD
• Amazon
• Barnes & Noble
• P & R Publishing
Related Media:
• Book preview
• Author interview about this book
• Author's website
• Author's blog
Disclaimer:
This book was provided by P & R Publishing for review. I was under no obligation to offer a favorable review.