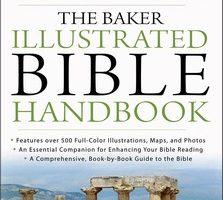 The Baker Illustrated Bible Handbook is such an attractive and beautiful book, I just had to try my hand at providing a video review. The book is as useful and informative as it is visually stunning. Unfortunately, my video review will not be of a high enough quality to do justice to the book. But please watch and let me know what you think. If the video player doesn't work on this post, click to watch my review on Youtube or Vimeo.
You can purchase this book at the following online retailers:
Disclaimer: This book was provided by Baker Books. I was under no obligation to offer a favorable review.