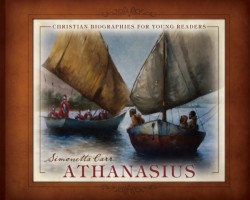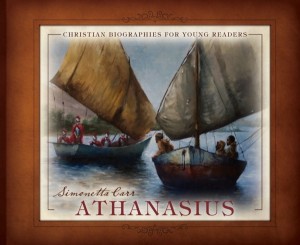 Athansius is one of the most important early Christian leaders, perhaps the only one with a Creed named after him. But like many Christian young people, I grew up without learning much about him at all.
Simonetta Carr hopes to remedy this problem through her latest addition to the "Christian Biographies for Young Readers" series from Reformation Heritage Books. In Athanasius, Carr gives young readers a vivid account of Athanasius' life. Complete with beautiful illustrations from Matt Abraxas, the book also includes a timeline, maps and lots of background facts about the time period of Athanasius' life.
Written for kids aged 7-12, this book will appeal to kids of a wide age-range. The story is set in the 300s AD in Alexandria, but Athanasius takes us from the deserts of Egypt, to Tyre, Rome, and Trier, Germany among other places. His life criss-crosses that of several emperors and he finds himself in and out of exile constantly. Athanasius is most remembered for his role in helping formulate the Nicene Creed and solidifying orthodox teaching on the Trinity, which is enshrined in the Athanasian Creed. His life also stands testament to the awful reality of persecution which so many Christians of ages past endured.
The book is arranged like a cross between a coffee-table book and a story book. The quality of the book will make it more suited for the mantle or special bookcase than a kids' playroom. The art is beautiful and the story stays accessible for young readers. This book will serve well in Sunday Schools or homeschool classes and takes its place alongside other titles in this series, which includes John Calvin, John Owen and Augustine of Hippo. If you are looking for wholesome reading material for young readers, this volume and the entire series from Reformation Heritage deserves your consideration. I highly recommend this book.
For this book, you'll really want to see this 16 page preview from Westminster Bookstore. It will enable you to get a better feel for the artwork and overall quality of the work.
You can pick up a copy of this book at the following online retailers: Westminster Bookstore, Amazon.com, or direct from Reformation Heritage.
Disclaimer: This book was provided by Reformation Heritage Books for review. I was under no obligation to offer a favorable review.