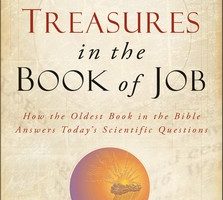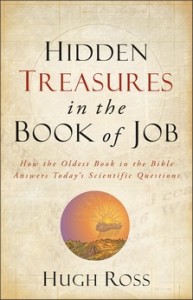 Dr. Hugh Ross, well known old-earth creationist and president of Reasons to Believe, has given us a gem of a book with Hidden Treasures in the Book of Job (Baker Books, 2011). The subtitle of the book explains its purpose: "How the oldest book in the Bible answers today's scientific questions."
Dr. Ross is as well versed in the creation debate today as anyone, and he has devoted time and effort in combating godless, Darwinian evolution and countering the arguments of new atheists. With this book, he unpacks the myriad of ways the book of Job speaks to the question of origins and the meaning of life on earth.
Job 38 describes God's creative activity directly, and Ross focuses in on this chapter. Yet he also discusses whether leviathan was a dinosaur, and what Job has to say about the extent of the Flood. Suffering, death, unique attributes of humans, the soulish nature of animals, the order of creation–these topics and more are covered.
As Ross writes, he blends scientific insight (like just why Hurricanes are so beneficial to the climate of Earth), personal anecdotes and devotional thoughts from the book of Job in a fascinating and well-written way. The book is not so much an extended defense of Ross's scientific positions, but a manual filled with interesting tidbits that will get you thinking and encourage you to keep studying, and to mine the book of Job for treasures yourself.
You can pick up a copy of Hidden Treasures in the Book of Job at the following online retailers: ChristianBook.com, Amazon.com, Barnes&Noble.com, or direct from Reasons to Believe, or Baker Books.
Disclaimer: This book was provided by Reasons to Believe. I was under no obligation to offer a favorable review.
About Book Briefs: With limited time available to give every book sent my way a full review, I'll be offering short-form book reviews called Book Briefs. Book Briefs are book notes, or my impression and informed evaluation of a book, but they stop short of being a full book review.