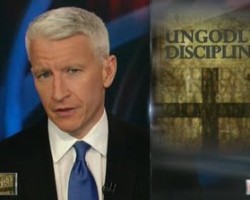 This April, some of you know that ABC News' 20/20 program did an hour long special on the Independent Fundamental Baptist church movement and repeated allegations of sexual abuse — focusing in on a case that happened in Concord, New Hampshire at a church pastored at the time by Chuck Phelps. You can read the posts I did as a follow up to that report, here.
Well, I just learned that CNN's 360 program with Anderson Cooper has been running a series entitled "Ungodly Discipline". In their first hour long show on Thursday 9/1, they boomeranged off the sad case of a couple who beat their seven year old daughter to death following the principles from Michael and Debi Pearl's book To Train Up a Child (a book I was encouraged to purchase at my fundamentalist college). This couple literally spanked the child for seven hours with small breaks for bathroom and prayer. Then the show interviewed the Pearls about their book and their take on spanking. The president of the Bible College I attended was then quoted in a sermon of his on spanking, and Jocelyn Zichterman (who was instrumental in the ABC News program) was interviewed. Next, there was a segment on the alleged abuse cases at Hephzibah House, a home for troubled girls in Indiana. Finally, a closing segment interviewed Bruce Feiler (author of several books explaining evangelical culture) and Jeffrey Toobin (the legal consultant for the show) on how much leeway parents have in spanking their children, legally today.
I wanted to share the videos here and begin discussing the tragedy of such physical abuse perpetrated in the name of the Lord among hyper-fundamentalist Christians. I want to look further at the topic of spanking, and what we are supposed to do about these kinds of cases. I think the time for hiding behind a desire not to spread misinformation and stretched-truths is behind me. Enough has been said and shared that the stories are quite believable. And at the very least those who are alleged to be promoting this kind of physical abuse need to stand up and face the music. They should defend what they are doing by the Bible and distance themselves from this pattern of abuse. And if they don't, we'll have the confirmation we need of the many stories we've heard. People need to be warned, and enough is enough.
So watch the four segments below (we'll treat the Hephzibah House segment on its own post). I have learned that another episode is planned that focuses in directly on my alma mater, Fairhaven Baptist College. That show is to air Thursday, 9/22. I'll be following it closely, but from some of the stories I have read over the last few months, I'm not surprised. In fact, I hope the truth comes out, and that the many who are being misled and harmed by the leadership (whether intentionally or not), will be awakened to evil that has been allowed to flourish.

UPDATE: since this was hard to load for some people, I have just included links to the individual video segments that you can watch on CNN.
After watching these videos you may want to check out Mike Durning's helpful summary and description of the show along with his take on it, posted at Sharper Iron.