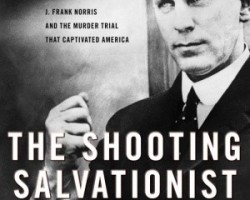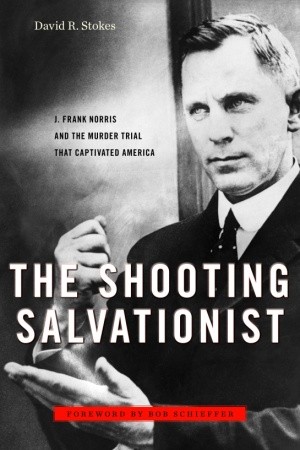 J. Frank Norris may be the most influential fundamentalist leader that almost no one has heard about. In his day, he was a shoe-in to lead the fundamentalist movement after the passing of the great William Jennings Bryan of Scopes Trial fame. Norris was the fiery, fundamentalist pastor of Fort Worth's largest church. He boasted the largest Sunday School in the world and had his own newspaper and radio station. His flamboyant preaching style and knack for publicity stunts and marketing, were being emulated by countless fundamentalist pastors around the country.
It was the 1920s and the fundamentalist movement was nearly at its peak. J. Frank Norris was already one of the most influential leaders in Evangelical Christianity as a whole. But then something happened in July, 1926, which would change everything. Norris shot an unarmed man in his church office, and that story rocked the country.
The events leading up to this incident, and the incredible murder trial which followed, are the focus of a new book by David R. Stokes, published by Steerforth Press and distributed by Random House. Stokes tells the J. Frank Norris story of his upbringing in a small Texas town, his education and early ministry. He tells the story of Norris' time as pastor of First Baptist Church of Fort Worth, and his separation from the Southern Baptist denomination.
Stokes tells more than just Norris' story, he tells the story of early Fort Worth and its leading citizens: mayor H.C. Meacham, newspaper mogul Amon G. Carter, and the unfortunate Dexter Chipps, who perished in Norris' office that summer day in 1926. He describes the waning influence of the Ku Klux Klan, whose local leader was an influential member in Norris' church. Stokes also surveys Texas Politics of the 1920s and the big influence J. Frank Norris held through his radio station and newspaper. The story of fundamentalism and the Scopes Trial is also explored, as he sets the table for the fast-paced and moving account of the murder trial of J. Frank Norris.
Stokes tells this story in the words of the newspapers, and personal remembrances of the day. One can tell he spent countless hours pouring over microfiche and personal correspondence in preparation for this book. The tale reads like a legal thriller, yet everything is true to life. Sometimes, it seems, life is stranger than fiction.
Ultimately acquitted, Norris lost the battle of public opinion. And his influence in Christianity and fundamentalism, began to decline. Norris' years after the murder trial are only briefly recounted, as the book focuses more on the murder trial itself.
I found Stokes' treatment of this charged story to be evenhanded and fair. Stokes, a minister himself, shows no favoritism for Norris' side of the story, nor does he partake in fundamentalist-bashing, although this story would certainly afford the perfect opportunity to cast stones. He doesn't step up and comment on what he thinks really happened or opine on how horrid Norris' pastoral example was. Instead he captures the spirit of the man J. Frank Norris, and presents us with the facts as revealed in the trial.
What exactly happened in Norris' office that day in 1926? We may never know. But the story of J. Frank Norris' murder trial has had far-reaching impact. His acquittal allowed him to continue to influence the next generation of fundamentalist leaders, and yet the trial certainly tarnished the image of fundamentalist Christianity.
As one who was raised a fundamentalist of Norris' ilk, who has been in churches founded by Temple Baptist Church of Detroit, which Norris pastored for a time (while at the same time still pastoring in Fort Worth), the tale of Norris is cautionary. His ideals were very man-centered and the emphasis in his ministry was on self-promotion and effort. Norris achieved the notoriety he desired, and even influenced many to follow Jesus Christ. But one has to wonder if the methods he used, while perhaps not murderous, have nevertheless afflicted fundamentalism with a deadly case of man-centered mania. Men like Jack Hyles and even Bob Jones, Sr. took pages from Norris' book as they lead their ministries in an egotistical fashion prizing loyalty from their followers, and advancing the cause through self-promotion and human-centered means.
Norris offers an example of how not to lead a church. And for fundamentalists today who are in a season of reformation and renewal, this book will prove to be a text-book example of where fundamentalism went wrong. I hope this book achieves a wide circulation, as the sad story it tells may serve to spur on further reformation and reflection by evangelical and fundamentalist Christians everywhere.
Pick up a copy of The Shooting Salvationist: J. Frank Norris and The Murder Trial that Captivated America. You won't find a more fascinating and captivating true story anywhere.
Disclaimer: This book was provided by SteerForth Press via the Amazon Vine Reviewers program. I was under no obligation to offer a favorable review.
You can purchase a copy of this book from Amazon.com, or Random House or SteerForth Press.