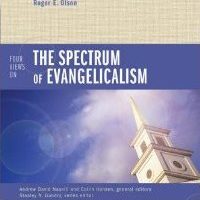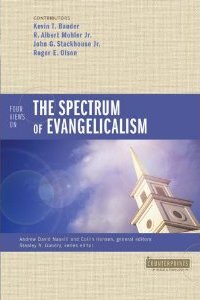 A new book forthcoming from Zondervan includes a chapter from Dr. Kevin Bauder of Central Baptist Theological Seminary in Minneapolis. I won't talk about the book other than to mention its title, and that it is worth getting! The book is Four Views on the Spectrum of Evangelicalism, edited by Collin Hansen and Andrew Naselli.
I'm still only about half-way through a galley copy of this book, but my eyes lit up when I came across Bauder's characteristics of hyper-fundamentalism. I think he has captured lightning in a bottle with this list of descriptors, since for a very long time I've struggled to pinpoint the cross-over line from reasonable fundamentalism to fundamentalism run wild.
I just have to share Bauder's eight characteristics of hyper-fundamentalism with you, but I strongly encourage you to get the book and read his entire essay. This quotation is from a pre-published version of the book so it may diverge in part from the final published product.
————————
First, hyper-fundamentalists often understand fundamentalism in terms of loyalty to an organization, movement, or even leader. They equate the defense of the faith with the prosperity of their organization or its leader. Someone who criticizes or contradicts it is subjected to censure or separation.
Second, hyper-fundamentalists sometimes adopt a militant stance regarding some extrabiblical or even antibiblical teaching. [He sites KJV-onlyism as an example.] …When individuals become militant over such nonbiblical teachings, they cross the line into hyper-fundamentalism.
Third, hyper-fundamentlists understand separation in terms of guilt by association. To associate with someone who holds any error constitutes an endorsement of that error….
Fourth, hyper-fundamentalists are marked by an inability to receive criticism. For them, questioning implies weakness or compromise. Any criticism — especially if it is offered publicly — constitutes an attack….
A fifth characteristic of hyper-fundamentalism is anti-intellectualism. Some hyper-fundamentalists view education as detrimental to spiritual well-being…. Colleges, when they exist, are strictly for the purpose of practical training.
Sixth, hyper-fundamentalists sometimes turn nonessentials into tests of fundamentalism. For example, some hyper-fundamentalists assume that only Baptists should be recognized as fundamentalists…. One's fundamentalist standing may be judged by such criteria as hair length, musical preferences, and whether one allows women to wear trousers.
Seventh, hyper-fundamentalists occasionally treat militant political involvement as a criterion for fundamentalist standing. During the 1960s and 1970s, anticommunism was a definitive factor for some fundamentalists. Its place has now been taken by antiabortion and antihomosexual activism. Most fundamentalists do agree about these issues, but hyper-fundamentalists make militant activism a necessary obligation of the Christian faith.
Eight and last, hyper-fundamentalists sometimes hold a double standard for personal ethics. They see themselves engaged in an ecclesiastical war, and they reason that some things are permissible in a warfare that would not be permissible in ordinary life. They may employ name-calling, half-truths, and innuendo as legitimate weapons. They may excuse broken promises and political backstabbing.
Hyper-fundamentalism takes many forms, including some that I have not listed. Nevertheless, these are the forms that are most frequently encountered. When a version of fundamentalism bears one or more of these marks, it should be viewed as hyper-fundamentalist…
Hyper-fundamentalism is not fundamentalism. It is as a parasite on the fundamentalist movement. For many years it was simply a nuisance, largely ignored by mainstream fundamentalists. Ignoring the problem, however, permitted it to grow. While statistics are not available, hyper-fundamentalists now constitute a significant percentage of self-identified fundamentalists, perhaps even a majority. They have become the noisiest and often the most visible representatives of fundamentalism. They may be the only version of fundamentalism that many people ever see.
–Excerpted from Kevin Bauder's chapter on Fundamentalism, in Four Views of the Spectrum of Evangelicalism (Zondervan, 2011).
————————
Let me know what you think. Doesn't Bauder nail it with this description? I think so.