Another insightful excerpt from the new book, Give Them Grace: Dazzling Your Kids with the Love of Jesus by Elyse M. Fitzpatrick & Jessica Thompson:
_____________________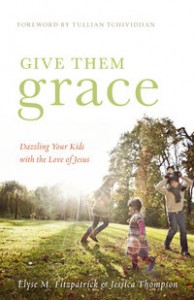 Works righteousness is a deadly and false variation of godly obedience. Godly obedience is motivated by love for God and trust in his gracious plan and power. Works righteousness is motivated by unbelief; it is a reliance on our abilities and a desire to control outcomes. Works righteousness eventuates in penance: I'll make it up to you by redoubling my efforts tomorrow! rather than repentance: Lord forgive me for my sin today. Thank you that you love me in spite of all my failures. In parenting, works righteousness will cause us to be both fearful and demanding. When we see our failures, we will be overcome with fear: I really blew it with my kids today. I'm so afraid that I'm going to ruin them! When we see their failures, we'll be overly demanding: I've already told you what I want you to do. Didn't you hear me? I must have told you fifty times in the last five minutes. I'm sick to death of your terrible attitude. You need to listen to me and do what I say without any complaints or grunts or eye rolls. Just do it! It's obvious how both responses feed off each other in a never-ending cycle of anger and despair and penance.
Works righteousness obliterates the sweet comforts of grace because it cuts us off from God, who alone is the giver of grace. It cuts us off because he absolutely insists on being our sole Savior. This is his claim: "I, I am the LORD, and besides me there is no savior" (Isa. 43:11; see also 45:21). We are not nor can we be the saviors of our children. He is the Savior. When we forget this, our parenting will be pockmarked by fear, severity, and exhaustion.
On the other hand, when we rest in his gracious work we will experience the comforts he has provided for us. He delights in being worshiped as the One who "richly provides us with everything to enjoy" (1 Tim. 6:17). He loves flooding our consciences with the peace that comes from knowing our sins are forgiven and our standing before him is completely secure. When we're quietly resting in grace, we'll have grace to give our children, too. When we're freed from the ultimate responsibility of being their savior, we'll find our parenting burden becoming easy and light. [excerpted from pg. 55 of Give them Grace, published by Crossway Books]
_____________________
I can't help but adding a side-note here. Most IFBx preachers I know pastor their church by this same false notion that the salvation of their flock depends on them. They encourage parents to be harsh with their kids as being the only way to win them ultimately to the Lord. All the while, God's grace sits untapped in the corner and the legalism factory churns along with everybody working overtime….
You can pick up a copy of this important book on parenting (and the Gospel of God's grace) at the following retailers: , Monergism Books, Christianbook.com, Amazon.com, and direct from Crossway Books.