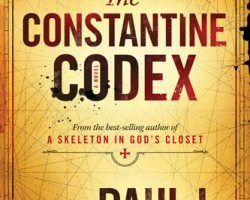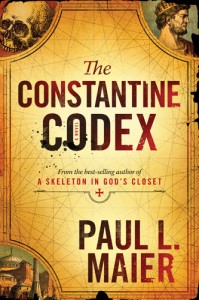 Only if Indiana Jones were to discover a lost book of the Bible, battle his way past Islamic terrorists and later sneak into the inner recesses of the Vatican — only then, would an adventure story compare favorably with those envisioned by Dr. Paul Maier, professor of ancient history at Western Michigan University. Dr. Maier is famous for his academic work which includes accessible editions of Eusebius and Josephus. His fiction works, however, have sold millions of copies, and with A Skeleton in God's Closet, he virtually created a new genre of fiction: the archeological/theological thriller.
The Constantine Codex, released by Tyndale House this May, is the third book in the "Skeleton" series. It continues the story of archeologist and Christian scholar Jonathan Weber and his escapades. The tale begins with the discovery of a few leaves from the lost works on early church history written by Hegesippus, on whom Eusebius leaned in part for his monumental work on the early church. The contents of those leaves hint at a previously unknown book from the pen of Luke, the author of a Gospel (bearing his name), and the book of Acts — both of which are in the Christian New Testament. Fascinated by the implications, Jonathan Weber and his wife Shannon (who unearthed the missing leaves) plan to embark on a mission of discovery — searching for authentication of their discovery, and the cooperation of the librarians of many of the greatest treasures of ancient Biblical manuscripts. Before they can leave, a world-wide commotion erupts over the Arabic translation of Weber's influential textbook on the New Testament, and Weber ends up on the receiving end of a fatwa (a death warrant given by a Muslim ayatollah). With the CIA fearing for their safety, the Webers push on and embark on their trip in pursuit of a lost chapter of church history. What they eventually find will change their lives, and the history of Christianity, forever.
This fast-paced tale takes the Webers from the Roman tomb of St. Paul, to a dark subterranean chamber reserved for manuscripts in disrepair, and leads to a world-class debate with a leading Muslim intellectual in no less a venue than the Hagia Sophia. And all of this pales in comparison to the incredible discovery of lost portions of the New Testament and the challenge this presents to Weber and his foundation of leading Christian scholars of multiple disciplines.
As Maier weaves this tale he includes equal potions of intrigue and suspense, with wonder and raw emotion. His technical discussion of the authentication of manuscript finds and ancient scribal practices is spot on, and his ability to describe and draw you into the scene is superb. Archeology, theology, textual criticism, church history and intra-church politics — all of these disciplines and more are tapped as Maier expertly crafts this story. The result is a tale which is intellectually satisfying, experientially rich and a fantastic read to boot.
Maier is a master writer, and The Constantine Codex stands testimony to that. Having not read Maier before, I was pleased to find that this did not detract from following the storyline of this book at all. If you're looking for a great adventure tale, and especially if you are fascinated by archeology, theology or textual studies, you will want to read this book.
Disclaimer: This book was provided by Tyndale House Publishers. I was under no obligation to offer a favorable review.
You can purchase a copy of this book from any of these fine retailers: Christianbook.com, Amazon.com or direct from Tyndale.