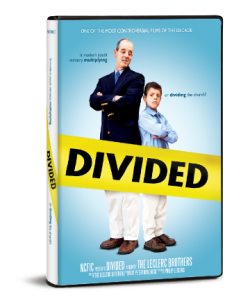 A new documentary DVD sponsored by The National Center for Family-Integrated Churches, is beginning to make some waves. Divided: Is Modern Youth Ministry Multiplying or Dividing the Church? explores the pitfalls and problems of how we've done church for the last thirty to forty years (and more). You can watch the entire 54 minute DVD online through September. I have the video embedded below, but you may want to click through to watch it full size on Vimeo.com.
I found the DVD thought provoking and definitely worth my time in watching. Age segregation is a new concept in the church, and has only been around in the last hundred years or more. There is a strong argument to be made that it has contributed to many of the problems in the church.
The documentary interviews current youth ministry gurus, youth ministers with misgivings, and former youth ministers. Also included are interviews of church leaders in the Family-Integrated movement such as Douglas Phillips, Scott Brown, and Voddie Baucham, Jr. as well as other leaders less known for their preference for Family-Integrated churches, like R.C. Sproul, Jr., Ken Ham and Paul Washer.
The movie itself flows at a nice pace, tracing the investigation of Philip Leclerc into the problems surrounding youth ministry in the church. The filming is superb and well-planned, interesting shots abound. The setting of the interviews also are visually appealing and the whole movie is a great production. The Leclrerc brothers criss-cross the country interviewing leaders and digging into this problem.
Still, after all the interviews and the questions have been presented, I don't think the case against modern youth ministry is as fool proof as the documentary claims. At our church, children age 5 and up sit with us in the worship service and that alone contrasts with what many churches do. We have age segregated Sunday School classes, but also foster a unity in spirit throughout the church cross-generationally. More could be done though. And just opening eyes to the questions in this debate can make a big impact.
I recommend you take the time to watch Divided. You may want to pick up a copy of the movie to have it in your library and show it to your church leaders. Learn more about Divided at DividedtheMovie.com. You can purchase a copy of this movie direct from the movie's website, or through Amazon.com.
If you've seen this, or if you take the time to watch it, please join the discussion. Let us know what you think.
Official Divided the Movie (HD Version) from NCFIC on Vimeo.