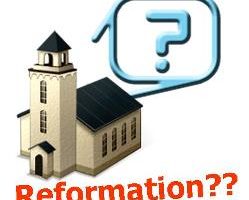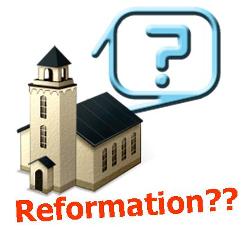 A blogging friend of mine, Will Dudding, recently shared some thoughts on his journey of the last five years or so, since he started blogging. His blog name is The Reforming Baptist, and he is a co-blogger with me on Re:Fundamentals and KJVOnlyDebate.com. After taking a break from blogging the past few months, Will came back to share some of his thoughts on where he's at in a recent post. I want to excerpt some of his comments and discuss them here, below.
Since I have put blogging on the shelf for the last seven months, I have been learning some things that I needed to be quiet and learn. So, I'll share them with those of you who have waited to see if I'd ever come back.

Originally, this blog was born out of my increased exposure to theology and ministry philosophy that was more God-centered than what I was accustomed to. So, I wanted to express what I was learning and kind of think through some issues in a public way in order to interact with others out there about it. However, I was very much a frustrated young man who was still struggling in my cocoon. As most of you know, I grew up in the Independent Fundamental Baptist (IFB) environment. After being exposed to life outside of that group, I felt as though I had been hoodwinked all my life and I used my blog to express my frustrations and address all the myths, errors, falsehoods, etc.. that I had bought into. Inadvertently, I learned that I had a porcupine effect on some people. Eventually, I began to sense that very same spirit of dissent in a few members in my congregation. It was then, that I realized that my spirit had probably negatively effected some people whom I was supposed to be leading. We ended up losing one family shortly after I stopped blogging. It was really painful to see them go, but I had to wonder after the fact how much of their dis-satisfied disposition was caused by mine? It took a rebuke from someone close to me that got me thinking about this, and so I knew it was time to quit blogging. I needed to shut up and listen to what God needed to teach me.

Another lesson I learned these past months is that the IFB or Fundamentalist movement, network, culture (whatever you want to call it) is not going to be revived or reformed. Those loyal to it cannot and will not recognize the inherent and fundamental defects of the movement. It will continue to decline from relevance and influence on its own. God doesn't revive or reform such things. He does so to individuals. There is no use trying to correct the course of Fundamentalism by reasoning with the Scripture because for the most part, Sola Scriptura is not really valued by the movers and shakers in the movement. So, I have learned that it is best to just leave it alone and get my head out of the clouds – I am not going to make a dent in reforming fundamentalism. All I will ever be is a burr in their saddle, an irritation to be put up with should I continue identifying myself with them – not my idea of purposeful existence. I don't need to be identified with the Fundamental Baptists, the Reformed Baptists, the Southern Baptists or any other group. We can exist in happy obedience to God's Word and in fellowship with anyone else who is striving to do the same That is truly independence!
I encourage you to read the whole post, as he has some more to say. But I wondered what my readers thought of his judgement of the IFB movement. In my blog's subtitle for the last several years, I've had the phrase "Reforming Fundamentalism (IFB) through Reformed Theology". Will hasn't been a full-fledged proponent of Reformed Theology, but he has been a reforming fundamentalist. I maintain a Reforming Fundamentalists Blog Network, which I need to update, but still includes a list of like-minded IFBs & former-IFBs intent on working toward positive change. That was the idea behind Re:Fundamentals, which also needs updating. One could also argue that the large fundamentalist forums and blog, Sharper Iron, has as one of its aims, the reformation of the IFB movement.
Will brings up the question though, is all this worth it? Will the IFB movement change? Does it want to change? He says it doesn't. But I think that depends on where you are in the IFB spectrum. Still the recent brouhaha over Chuck Phelps and ABC's 20/20 show, and the revelation of what many (myself included) consider to be a misuse of pastoral authority, teaches us something. That even in the "sane" wing of fundamentalism, a top-down leadership style, and certain views on authority and sanctification, continue to have drastic consequences. Pastor Bob Bixby, who like Greg Locke, has also walked away from the IFB movement and the Baptist label, recently shared some of his thoughts about continuing problems in the highest ranks of BJU-style fundamentalism. Will and I could give you some stories of other fundamentalist groups that would raise the hair on the back of your neck. I don't know if I've recounted horror stories, but the personal stories and testimonies I've shared will give you an eyeful. Here are four accounts for you: a distraught mother, Becca's story, Greg's story, and another reader's story. For a wild ride through the heart of the most extreme version of fundamentalism, you should pick up James Spurgeon's book The Texas Baptist Crucible: Tales from the Temple.
Over my nearly six years of blogging, I've received on average one or two emails a week, it seems, from people appreciating my blog or sharing their own story of journeying through fundamentalism. Hundreds have shared their thoughts in the comments on my blog, but many more in private conversation to me. Many of these have found a new church, some are IFB churches which are much better than where they were before, but many walk away from the movement altogether.
Is the movement really changing? Are such stories decreasing in frequency? Maybe. I know this happened in other generations. Two of my uncles walked away from the IFB movement in the early 80s. Perhaps the internet is helping to escalate the problem. More and more have walked away or have awakened to the issues.
Does this mean we can write ICHABOD in bold across the moniker IFB? I don't actually think so. Kevin Bauder and Dave Doran, represent glimmers of hope. This conversation between them and Mark Minnick, reveals the heart of these new fundamentalist leaders. Sharper Iron is a place where many IFB pastors and thinkers are discussing issues and seeking positive growth. The Preserving the Truth Conference, even though I don't agree with some of it's central values, nevertheless represents a positive movement in fundamentalism. As does Calvary Baptist's Advancing the Church conference. Standpoint Conference is a mix of those still holding the IFB name and those who are past it, but it is working for a positive expression of fundamentalism for the new century.
Historic fundamentalism is still needed. Independence can be a good thing, as long as healthy interdependence with other like-minded churches is sought out. And Baptist doctrine and practice has hundreds of years behind it, and has proven to be a faith that aims to be as Biblical as possible. So Independent Fundamental Baptists are not a bad thing. What needs to be improved upon, and ejected from the movement, is the man-centered, pragmatic trappings and the baggage from the last 80 years of the movement. One-upmanship, strong-arming, political maneuvering, grand-standing, arrogance and an abrupt dismissal of any church group besides your own — these are all too common in the IFB world. Along with these problems is a fear of education, a resulting ignorance of doctrine, and a love of piety over theology — these problems have conspired to spawn eccentric doctrines and shallow Christians completely cut off from the rest of Christianity (as Will describes). Finally, and most importantly, a legalism silently pervades the movement. Often good intentions mask this legalism: we want to please God and obey His Law, but this is not our means to being accepted by God (either for our salvation or our sanctification). A recovery of the Biblical concept of grace and of the Gospel as being the A-Z of the Christian life (not just the entrance exam) is desperately needed.
There remain many faithful IFB churches who stand on the Word of God and love people. May their tribe increase. To try to reform those who bristle at the mention of the problems I stated above, however, is pointless. I trust, however, that more and more IFB pastors and leaders are willing to admit the problems of their movement. May they be encouraged to reform and renew fundamentalism for the 21st Century and beyond.