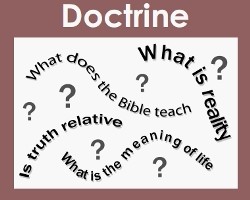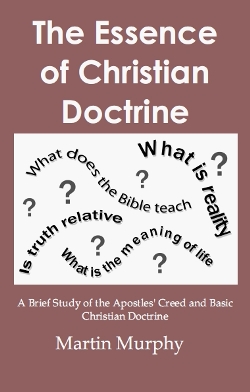 What is the essence of Christian doctrine? If you had to summarize the Christian faith, how would you do it? What primer could you give a new convert to introduce him to the foundational truths of Scripture? For many centuries, creeds such as the Nicene or Apostle's Creed functioned as a foundational catechism for the Church. Even today, many evangelical Protestant churches revere and from time to time quote these creeds. They were the first confessions of the Church and much care and thought was put into each and every phrase they contain.
Perhaps the most widely used creed is the Apostle's Creed. In a new book by Martin Murphy, this creed is expounded as a summary of basic Christian doctrine. Murphy's book is entitled The Essence of Christian Doctrine: A Brief Study of the Apostle's Creed and Basic Christian Doctrine. A publishing company he has founded, Theocentric Publishing, has produced this title and I was asked to review it.
The book begins with the Apostle's creed and goes line by line through it. Each chapter is brief and provides a high level overview of fundamental Christian doctrine. After the creed is finished, other general Bible truths are explored: the Bible, Creation, sin, salvation, sanctification and more. Then the 10 commandments and the law of God are covered, as is evangelism and "principles of reformation and revival".
The author's pastoral tone is evident throughout this brief work. When appropriate, historical details and finer theological points are shared, but for the most part, a basic survey of doctrine is achieved. The implications of doctrine and the problems of the church today are also explained. The work is Reformed in perspective and can be used as a discipleship tool. It would also serve well for use as educational materials for older children.
One example of Murphy's direct and simple style comes from his discussion on "bearing one another's burden":
Christians burdened by sin have no trouble finding other Christians that are more than willing to criticize and find fault. Then others are calling for punishment rather than restoration of a fallen brother or sister. Of course there are plenty who simply ignore a fallen brother or sister. The biblical way to bear one another's sin burden is to be restored by those who are spiritual (Galatians 6:1,2). (pg. 165)
For being a self-published work, there are not too many editorial flaws. Several times bullet points are not standard within one list, and that can be distracting (see pg. 66, 75, 113, and 152). My primary complaint with the book is that it doesn't quote the Apostle's Creed in full. Having been raised in churches that didn't teach that creed, it made it hard to follow along at various places. [Note: I've been told these errors have been fixed, and the creed has been added in the most recent edition, available through Amazon.]
Make no mistake, this is no dry and boring book on doctrine. Murphy writes with vigor and love and with a pastor's eye. This simple book will be a help to many and I recommend it. Books like this are needed in today's church, and I hope it will find a wide audience.
Disclaimer: This book was provided by the author for review. I was under no obligation to offer a favorable review.
You can pick up a copy of this book from any of these fine retailers: Christianbook.com, Amazon.com, or direct from Theocentric Publishing Group.