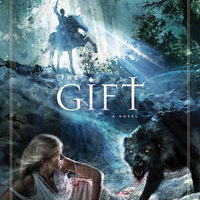 Step forward several hundred years into a post-nuclear apocalypse future. Earth has lost most of her technology and a new feudal age is in full swing. In this world, the Christiani are hunted down and nearly exterminated, and even the very message of the New Testament has been lost and nearly forgotten.
This is the story that Bryan M. Litfin crafts for us in his "Chiveis Trilogy". The Gift: A Novel, the second book in the series, follows Captain Teofil and Anastasia as they journey through new lands in search of the lost New Testament. Along the way, their adventures are many as they narrowly escape imprisonment, torture and death at every turn. The physical dangers aren't the only obstacles in their quest, they battle temptation to fit in to the spirit of the world they inhabit, too.
The book comes off feeling a bit like a fantasy work, yet there are no fantastic characters. It's actually more similar to a tale from a long lost medieval age, with the twist of people trying to search out the true meaning of Christianity. The character development is excellent even if the plot at times seems too good to be true. The quest to find the true nature of Christianity and to uncover the lost New Testament makes for a great story line, however. And the book moves along at a quick pace.
Without having read the first book, I was still able to enter the story easily: enough of the backstory was retold that I didn't feel lost. This book also comes with 15 study questions in the back which would allow it to serve as a class assignment for a study of literature, or equally well as a discussion guide for talking over the story and the moral dilemmas which faced its characters with your teen-age children.
This story was both unique and well-written. And what is vital for a fictional tale, it was ultimately satisfying. Yet the book offered even more, it was a work about our Christian faith and the struggle to live it out faithfully in whatever age we find ourselves in. I recommend the book highly. It would make for great summer reading. I'll be keeping my eye out for the conclusion of Litfin's Chiveis Trilogy, too.
Disclaimer: This book was provided by Crossway Books for review. I was under no obligation to offer a favorable review.
You can pick up a copy of this book from any of these fine retailers: Christianbook.com, Amazon.com, or direct from Crossway Books.