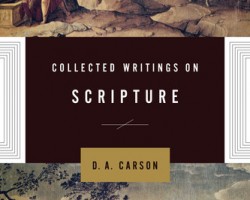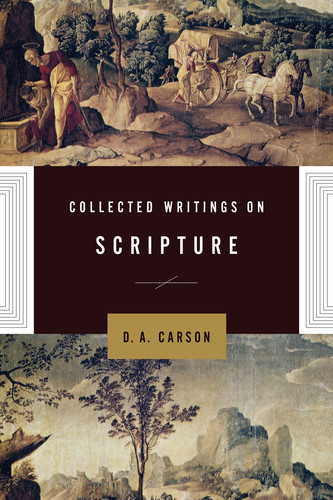 Crossway gave all the attendees of The Gospel Coalition Conference a copy of this book, last week. I thought I'd post my review, and host a book giveaway for my blog readers who have followed my blog updates from The Gospel Coalition Conference. No, I didn't read and review the book in one week; I already had received 2 copies of this book from Crossway. Look for details on the giveaway, tomorrow.
Solomon said "there is nothing new under the sun". In theology, however, this often appears not to be the case. With the preponderance of scholars today divided up into numerous different biblical disciplines, a constant barrage of books and controversies threatened to inundate us in a tidal wave of "new" ideas and opinions. Against such a barrage, we need seasoned, Christian scholars who can navigate through this sea of scholarly opinion without losing their bearings on the north star of Christian orthodox truth.
D.A. Carson is just such a scholar. Over thirty plus years of ministry, Carson has plotted a faithful course and in the process has given the Church an abundance of incredibly helpful books and articles along the way. He's also had a hand in training many Christian ministers of the gospel to cling to the Word of God in today's dark world. As I read through a recent compilation of many of Carson's writings on Scripture, I was amazed at how relevant his treatment of the doctrine in the controversies of 20 years ago was to today. Maybe Solomon was right after all!
In Collected Writings on Scripture, recently published by Crossway, Andrew Naselli has compiled some of D.A. Carson's most helpful articles, essays and book reviews on the subject of Scripture. Most of these writings are chapters in a book somewhere or an article in a journal from 20 years ago elsewhere. Naselli has helpfully collected them in one volume, and after working my way through the book, I agree this was a wise decision.
Carson has the ability to cut through the fog and get to the heart of a controversy, while at the same time staying dispassionate and irenic. His clear reason and forceful logic require even those being critiqued to agree that he has correctly captured their viewpoint even as he finds some fault with it. For the reader, Carson takes one on a journey across the last thirty years and indeed over the past two thousand. He surveys new developments in the doctrine of Scripture and compares them to church history and Scripture itself. Some of the essays or reviews are more technical and focus on a particular author or controversy, but Carson takes pains to show how what is at stake in an individual work applies to the broader picture. Along the way, a robust doctrine of Scripture is hammered out on the anvil of controversy and I found that my confidence and trust in the orthodox doctrines of verbal inspiration and inerrancy were strengthened.
Carson doesn't just preach to the choir. He chastens the church for the diminishing role of the authority of Scriptures. He doesn't hesitate to use the work of others, either. Whether it's a jewel of a quote from Calvin, or a painstaking new explanation of the New Testament witness to inerrancy by Grudem, Carson is both aware of the contribution of others and applies it winsomely to the current discussion.
Carson's ability to dissect a book and both appreciate its good points and show its weaknesses is nothing short of amazing. A few of the chapters deal with three books on Scripture at once. Seeing Carson interact with these books strengthened my critical eye and informed me of Carson's perspective at the same time. I was particularly helped by his discussion of Peter Enns's book Inspiration and Incarnation. Carson is disturbed by Enns seeming goal of overthrowing the confidence in Scripture that many of his readers have: "Wow. So are we explaining how evangelical faith accommodates biblical scholarship, or are we asserting that a Copernican revolution must take place within evangelical faith so as to accommodate biblical scholarship?" (pg. 367). He goes on to show that while incarnation can be a helpful analogy for understanding Scripture, Enns fails to explain what view of incarnation he has, how exactly Jesus' humanity equates to Scripture's humanness (if Scripture has errors does that mean Jesus had sin??), and how he uses the analogy. Carson concludes, rather, that "'Incarnation' is merely a rhetorically positive word to approve Enns's argument" (pg. 269).
Carson's review of Enns's book leads to my one disappointment with this collection. Carson deals a lot with hermeneutics in dealing with Peter Enns's claims. Carson concludes concerning the apostles that their "hermeneutic… overlaps with that of the Jews, is distinguishable from it, and at certain points is much more in line with the actual shape of Scripture: it rests on the unpacking of the Bible's storyline." (pg. 282). It is here that I wish Carson would elaborate. I was hoping this collection would include Carson's thoughts on hermeneutics along with inspiration and canonization. I'm not sure if Carson has given us an extended treatment of hermeneutics, so that might be why it is excluded. Still, what is included is superb and furthers my belief that Carson's scholarship is one of the incredible blessings God has given the Church today.
This book is not for everyone. Some familiarity with current controversies over inerrancy and Scripture is required. Students and pastors alike will be blessed and challenged by reading this book. And even if it is a stretch for you, you should benefit. I know I did. I recommend the book highly.
Disclaimer: This book was provided by Crossway Books for review. I was under no obligation to offer a favorable review.
You can pick up a copy of this book at Westminster Bookstore (as of this writing, they have it at 50% off), Monergism Books, Amazon.com or through direct from Crossway.