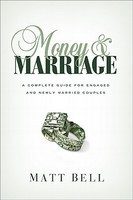 Money and Marriage: these two words go together for better or worse. Now as ever, more marriages fall apart over money than for almost any other reason. Even for those Christian couples who are determined to not even think about divorce, money adds an incredible amount of stress and pressure onto their new life together.
My experience is similar. We started out our marriage with a debt problem that got worse, and many of our trials have been related to financial pressures. By God's grace, we have grown through the years and have not allowed money to drive us apart. Today we are financially stable, but looking back, I believe we would have been better off had we read a resource like this new book by Matt Bell, Money and Marriage: A Complete Guide for Engaged and Newly Married Couples published by NavPress.
Bell's book is packed full of wise advice and practical tips, but it is so much more than just a self-help book. Systematically, step by step, Matt Bell explains how to think about finances and your new life together as a married couple. He gives a crash course on budgeting, frugality, credit, debt, housing, insurance and more. His book is flexible enough to be useful in a variety of ways as he advocates an approach to money more than any one strategy. Sprinkled throughout the book are Scripture verses, teaching applicable for Christians, and personal anecdotes. It is clear that this is a Christian money book, especially when the book concludes with the importance of finding a life purpose that fits in with God's purposes for your life.
This book was easy to read and chuck full of useful pointers and resources for more study (chief among them being Matt's personal blog, MattaboutMoney.com). I found the Scripture quotations and other quotations interesting and appropriate. Occasionally they were downright funny, providing comedic relief from the serious topic of conversation. For instance, Matt shares Mark Twains' important insight about investing: "October: This is one of the peculiarly dangerous months to speculate in stocks. The others are July, January, September, April, November, May, March, June, December, August, and February." Humor aside, the book offers sound (not trendy) advice and covers a wide variety of situations, such as when a prenuptial agreement may or may not make sense, even for a Christian.
Newly weds, engaged couples, and those who are still young marrieds will benefit most from the book, but everyone will find some sound financial advice. The "take action" steps, numerous charts, and the personal stories help the reader apply the principles to their own situation. If you know of any young couples, consider giving them a copy of this book. And those of you who haven't hit middle age yet, you really need to get this book. I highly recommend it.
Disclaimer: This book was provided by NavPress for review as part of the Lit-Fuse Publicity Blog Tour. I was under no obligation to offer a favorable review.
Be sure to check out the Blog Tour page for details on a contest for a $100 Visa gift card + free financial session with the author, Matt Bell. (Or click the graphic below to enter the contest).
You can pick up a copy of this book at Amazon.com or through NavPress, direct. An expanded version of this review, with additional resources, will also be available at CrossFocusedReviews.com.