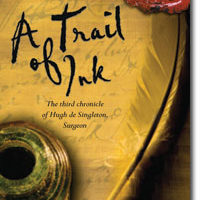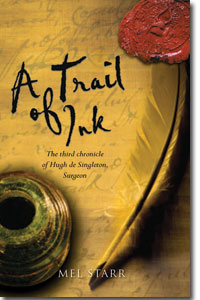 The year is 1365, and Hugh de Singleton a surgeon turned bailiff returns to the town of Oxford, England. Singleton stumbles upon a mystery surrounding his friend Master John Wycliffe, Warden of Canterbury Hall. As it happens, Hugh de Singleton has a flair for solving mysteries, and apprehending the offenders. This time, the crime involves a scholar's library — and Hugh's own heart.
Author Mel Starr, in A Trail of Ink, enthralls us with his third installment of his "Chronicles of Hugh de Singleton, Surgeon". The mystery and intrigue of life in the medieval age are brought to life through Starr's attention to detail in his descriptions of life in Oxford. He takes us to taverns and inns, college halls and monasteries, castle anterooms and dungeons — virtually every corner of Oxford. Starr also illustrates courting customs, legal proceedings, surgical procedures, and even roof repair through Hugh's adventures in the story.
Not having read the first two books in the series didn't really impact my enjoyment of this tale. The characters are all sufficiently introduced again for new readers. While the story is told from Hugh's point of view, primarily, he has a faithful sidekick as a companion on his misadventures. We learn some of John Wycliffe and Singleton's Lord Gilbert. Kate, the damsel Hugh's entranced by, also wins our attention.
The plot has numerous twists and turns, and the pace of the book speeds up from its somewhat slow beginning. The fun in reading this book is entering the world of 14th Century England. Singleton also has ample time for spiritual reflection in between his jaunts as surgeon, detective and bailiff. Christian readers won't find objectionable content in this book. It's a fun and interesting tale, with a unique setting. I'll be looking out for the first two books in this series, and the promised fourth adventure.
You can pick up a copy of this book at Amazon.com, Christianbook.com, BarnesandNoble.com, or direct from Kregel Publications.
Disclaimer: This book was provided by Kregel Books (distributors for Monarch Books) for review as part of the Lit-Fuse Publicity Blog Tour. I was under no obligation to offer a favorable review.