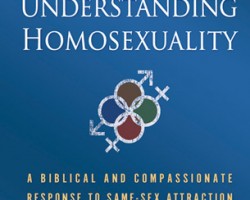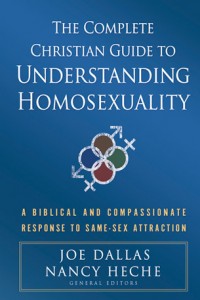 Countless people are struggling in the church pews today. Our world is full of addictions, fears and psychological disorders. Divorce is rampant as is sexual infidelity. From all corners we are hounded by the siren call of worldly desires and sensual pleasures. What was deviant and beyond consideration three decades ago is considered standard fare today, and today's deviance would make previous generations shudder.
Enter homosexuality. While thirty years ago this sin was still a mystery for most, today it is trumpeted from the billboards all over the place. And slowly and steadily, the problem of homosexuality is being realized inside our churches today. It is becoming increasingly common for young people in Christian homes to struggle with same-sex desires. And many a pastor, bible teacher or other church leader is confronted with a respected church member admitting to a problem in this area and seeking help. With all the controversy and debate that surrounds the issue today, and with the assumed distance the Church enjoys from this issue, it should not be surprising that many feel unprepared to help those struggling with this contemporary problem.
The Complete Christian Guide to Understanding Homosexuality: A Biblical and Compassionate Repsonse to Same-Sex Attraction (Harvest House, 2010) looks to be an accessible and comprehensive resource that will equip church leaders to handle this all important issue. Editors Joe Dallas and Nancy Heche have personal experience dealing with this problem. Joe is a former homosexual who found a new life in Christ. He is a past president of Exodus International, a network of Christian ministries dedicated to equipping Churches to minister to homosexuals. Nancy's husband was secretly living as a homosexual who contracted AIDS, while her daughter, actress Anne Heche, was for a time, the gay partner of Ellen DeGeneres. Both editors are experienced counselors who continually address this issue.
Dallas and Heche have compiled a comprehensive collection of accessible and helpful articles covering the range of questions relating to homosexuality. Six others contribute to this volume, ensuring that each chapter contains expert advice. Part one gives a background to this issue calling on the Church to pursue truth, and which gives an overview of the issue and a history of the gay rights movement. Part two explains and rebuts the pro-gay theology. Part three looks into the debate concerning the origins of homosexuality and takes care to evaluate theories from a biblical perspective. Part four contains practical counseling advice for helping homosexuals. Part five deals with how to help the parents or spouse who finds their loved one struggling with this issue. Part six finishes out the book by dealing with some of the hot button policy concerns such as same sex marriage, gays in the military, hate crime legislation, transgender issues, and AIDS. The book is rounded out by a call from the editors for a Christlike response to homosexuality.
This book seems to have the right balance and care for such a sensitive topic. The Bible is repeatedly brought to bear but the Church is cautioned against making uninformed assumptions. Numerous resources are referenced throughout the work, and it is a great place to start for finding information on any question you are interested in regarding this issue. It is going to be a useful handbook on my shelf in the years to come.
With the problem of homosexuality all around us, the Church cannot afford to ignore this issue. We must speak truth with love and grace to those struggling with this issue. Church leaders and pastors cannot afford to be without a resource like this. I recommend this book highly.
Disclaimer: This book was provided by Harvest House for review. I was under no obligation to offer a favorable review.
Pick up a copy of this book at Amazon.com or through Harvest House direct. An expanded version of this review, with additional resources, will also be available at CrossFocusedReviews.com.