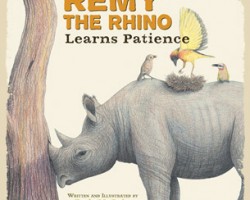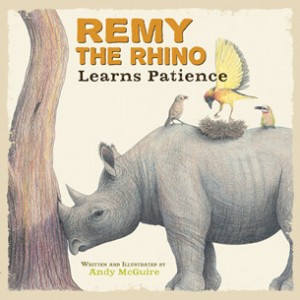 Books are powerful tools in the hands of children. My own five children remain fascinated with books of all types and sizes. Picture books especially captivate my younger children, who often read the same books over and over. Being a Christian parent, I know that Christian books for children are one way of reaching the hearts of my children for Christ. Yet finding good quality, well-written, Christian children's books is not necessarily easy.
For these reasons, I applaud Andy McGuire's attempt to offer beautiful, captivating story books which enable Christian parents to teach Biblical virtues to their children. In Remy the Rhino Learns Patience, we are introduced to an impatient, African rhino. He finds out the hard way that angrily insisting on one's own way, doesn't work. Remy finds himself in a pickle and at last learns to relax. The back cover provides the moral: "This entertaining story will help your children learn that anger only makes things worse, and that patience is the key to building friendships and solving problems."
I was quite impressed with the quality of this little book. I've seen too many, poorly-produced picture books. This book from Harvest House Publishers, however, stands right up there next to books produced by the giant, general market publishers. The cover has a deluxe hardback feel, where it feels a bit soft and welcoming to kids' hands. The pictures are beautifully illustrated, majoring on vivid earth tones. The pictures are life-like as well. The pages are glossy and the book's size is a nice 7 by 7 inches — perfect for preschool and young elementary kids. This book could easily become a favorite with little hands.
Andy McGuire's African theme is continued in another title from the "Little Lessons from Our Animal Pals" series: Eleanor the Hippo Learns to Tell the Truth. The two books together would make a wonderful addition to your kids' reading material.
When it comes to the message of this book, it is missing any direct reference to the Gospel, and doesn't quote a Bible verse, either. This allows the book to appeal to a wider audience, I suppose. But as a Christian I hoped for more. Still, the book has important lessons to convey to little hearts. As it is, this little book will provide an opportunity to parent your children and talk through the issues of anger and patience. And it certainly has more of a message than many other picture books your children will find. I'm happy to recommend this book for Christian parents and their little children.
Learn more about Andy McGuire at his website here. You can also preview the book here.
Disclaimer: This book was provided by Harvest House for review. I was under no obligation to offer a favorable review.
Pick up a copy of this book at Amazon.com or through Harvest House direct. An expanded version of this review, with additional resources, will also be available at CrossFocusedReviews.com.