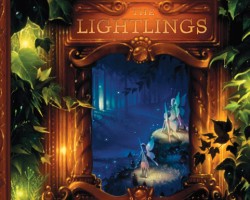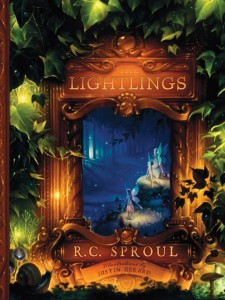 Have you ever wondered why stories have such power to move us? Why children sit mesmerized when they hear a fairy tale, and why people inevitably share their own personal stories when they get together?
Stories move us because we are part of a bigger story, "The Story". As Christians, we know the beginning and the end of that story, and all its major plot twists and turns. We don't know exactly how our life story will fit into it, but we have faith that it will.
R.C. Sproul has the gift of storytelling, and has written several stories for children. In The Lightlings, Sproul tells "The Story" by means of an allegory. He casts the world as peopled by lightlings, children of the King of Light. He depicts the fall, and their flight into darkness. He then paints a beautiful picture of a baby full of light, who is to be the Light of the World. This allegory is applied to children well by Sproul's setting it as a story told to a child wondering why he is afraid of the dark. The answer is a tale told by his grandfather, and then applied to the child's own circumstances at the end of the book.
The story is beautiful and has numerous points of contact with the true Biblical story of creation, fall and redemption. At the end of the book, several discussion questions are listed with Biblical verses in a "For Parents" section. These points don't exhaust the allegory but open it up to those who may be more unfamiliar with the Biblical metanarrative depicted in the tale.
The illustrations by Justin Gerard are stunning. He captures light well, which is necessary in illustrating this particular story. The pictures are attractive to kids of all ages, and depicting the lightlings as fairies helps the story compete with other children's tales that remain ever popular.
Christian parents must seek to get as many Christian resources as possible into the hands of our children. This book will provide opportunities to discuss the Gospel with children of all ages, particularly those in preschool and elementary school. An audio version of the book is available, as is an animatic DVD telling of the tale. And if you like this story, Sproul has other allegorical children's books available as well (Westminster Bookstore has a bundle deal on 3 of his kids books).
I wish more children's books today were like The Lightlings. The power of the story is not as often used as it should in capturing the hearts of our children. I cannot recommend this book more highly. If you have children, it is definitely a must have tool for the Christian parent.
Pick up a copy of this book at Amazon.com, Westminster Bookstore or directly from Reformation Trust. See an expanded version of this review, with additional content and resources, at CrossFocusedReviews.com.
Disclaimer: This book was provided by Reformation Trust Publishing for review. The reviewer was under no obligation to offer a favorable review.