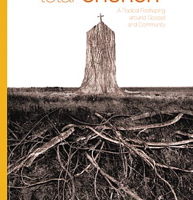 Go or Send? How Best to "Do Church"
My pal William Dudding over at Reforming Baptist, has a great post examining the missional model of church growth. He bristles at that term for it's cutting-edge, postmodern feel (even while others would complain it's over-used and much abused). I respect Will all the more, for posting a couple video clips of Mark Driscoll talking about this, because if you know Will, he is very much not a Mark Driscoll fan. We can learn from anyone, however, and it takes humility and sincerity to admit that.
I agree with the main point of Will's post, that attracting people to a church with it's programs is not the NT model for "doing church". Rather than sending people to our church, we should be going to where the people are and reaching them. We should gather as believers to be built up, edified, and most of all to worship Christ together. We then leave the assembly to take Christ to the lost all around us.
How do we do this effectively, however? How can I get my own self to open my mouth boldly and also to compassionately interact with the people God has placed in my life? These are the questions Will brings up, and which demand answers.
I think we need to get creative, and make sure our church activities don't sap us of any time and strength left to think missionally of our own neighborhoods and communities. We need to envision ourselves as missionaries to the places we live.
God ultimately has to guide us and empower our ministry, but there are strategies which may enhance our effectiveness in God's mission. One of the tools and methods that I most believe could work, has also been ignored by the wider church. In fact I still haven't come to a place where I have liberty to attempt this (or is it just plain ol' courage I lack?).
I'm talking about using small groups as home church-meetings, in a sense. We can invite people to come to these smaller meetings where we are more open and real and less "church-ly". We can let the lost see how Christianity is lived out in our homes and how it radically shapes our outlook. I look in vain to the New Testament for a one-man-gets-up-to-speak-while-the-thousand-congregants-sit-down-to-listen-quietly model of church teaching and preaching. I see believers interacting with one another, teachers interrupting each other as God gives them a word, and prophets judging the prophets in a vibrant, lively way.
I'm a little leery of changing things up too drastically, however. We have hundreds of years of tradition, not to mention the fact that preaching can be very effective in people's lives. So what about some kind of mix between an emphasis on home groups (where evangelism and discipleship can happen, and where gifted teachers can exercise their gifts) and corporate gatherings of the entire church for preaching and extended worship?
This kind of model is described in detail, in a book I gobbled up a while back, called Total Church: A Radical Reshaping around Gospel and Community by Tim Chester and Steve Timmis. In the book they talk about living with gospel intentionality. They show how an emphasis on community is encouraged in Scripture. They see evangelism as a three-fold cord: building relationships, sharing the gospel, and introducing people to community (by means of the home groups). All the while, they encourage the Gospel and the Word to stay central. But they also encourage community involvement, and meeting social needs in the name of Christ.
The benefits of the emphasis on home groups is that church planting becomes easier. Training and discipleship can happen while people are ministering in home settings, and seeing ministry modeled up close and personal. Furthermore, the togetherness that this model fosters, aids in purity and spiritual growth, as we really can't become holy by ourselves, nor were we expected to (think Heb. 3:12-14).
Total Church does have some radical ideas, but I appreciated how they connected everything to the gospel. It's a book I'll be picking up again, as I continue sorting out how best we should do church for God's glory, our growth, and the eternal benefit of the lost around us.
Does this make sense? Am I missing some important problems with this idea? Anyone else thinking along these lines? I'd love your feedback here, or over on Will's post where they're discussing this too.
Disclaimer: This book was provided by Crossway Books for review. I was under no obligation to offer a favorable review.
Pick up a copy of this book at Westminster Bookstore, Monergism Books, Amazon.com or through Crossway direct.