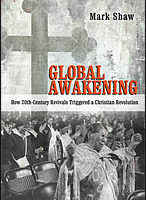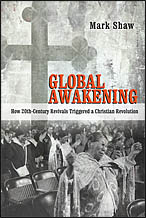 In many ways, America is a world unto itself. Until some tragedy strikes beyond our borders, we are content to fret about our internal problems and concerns. But more and more the world out yonder is coming in to us. Globalization is forever changing our way of life. And the wide world is ever shrinking.
Almost every social arena is affected by this trend, and the Church is no exception. American Christianity has long prided itself as the beacon of world-wide missions. Yet we still are tempted to think the Church outside our shores stands in need of our American ingenuity. Mark Shaw in Global Awakening: How 20th-Century Revivals Triggered a Christian Revolution reveals how ignorant such a perspective truly is. Missionaries are now flocking to our own shores, and the story of the 20th Century is the world-wide surge of the Evangelical Church.
Some of us may have missed the newsflash. Mark Shaw explains:
When one looks beyond Atlantic shores the most significant change in the world in the last several generations is the broader revival of religion sweeping the southern hemisphere…. To miss the rise and significance of the new World Christianity would be like a concerned Christian in sixteenth-century northern Europe missing Luther and the Reformation. Something that affects the renewal of Christianity worldwide is afoot and no one should miss the party. (pg. 10-11)
From many quarters I had heard of this global renewal of Christianity. Mark Shaw's book offered the chance for me to sample its various manifestations. Shaw uses eight case studies to illustrate his views of the nature and rise of global revivals. He argues that there are natural and supernatural factors at play. And he utilizes missiological and sociological studies to analyze these movements. Global Christianity, he finds, is less an exported Americanism than an indigenous inculturation of Christianity.
For the average Joe like you and I, his study still offers an accessible look into the variety and vivacity of worldwide Christianity. And to a large degree many of the movements he surveys from Korea and China, to India, Africa and on to South America, are the fruit of earlier mission endeavors.
The author shares what we all can learn from these historical revivals \"as we look toward the future of the church\":
The current global awakening needs to shake us from our cultural isolation and obsessions as North American Christians…. What the current global awakening teaches me, however, is that the real emerging church is a wildly global and culturally pluralistic one which moves us toward the vision of 1 Corinthians 12, a body of Christ with many parts each recognizing their global interdependence. The message of global revivals is that God is internationalizing his people and we stand at an Ephesians moment (to use Andrew Walls's expression) in which the cultural, geographic and political barriers are breaking down in light of the gospel. The current global revivals are not ends in themselves. Their ultimate significance will be seen in multicultural missional churches that seek to change their world in the power of the Spirit and in partnership with the mission of God. (from an Author Q & A provided by IVP)
This book isn't for everyone. It's a bit technical and doesn't develop the stories as much as an average reader might like. Furthermore, Shaw is not as critical of new Pentecostal movements as some might like him to be. Nevertheless it offers a helpful survey of the growth of Worldwide Christianity and serves to enforce the notion that the proper term for such global developments is \"revival\". Shaw helps us see that God uses both natural factors and human movements as catalysts in His work of growing His Church.
Ultimately, Global Awakening spurs us American Christians to see beyond ourselves and look for the hand of God in other places around the world. To serve this end I recommend the book for a wide audience.

Pick up a copy of this book at Amazon.com or direct from InterVarsity Press. See an expanded version of this review, with additional content and resources, at CrossFocusedReviews.com.
Disclaimer: This book was provided by IVP Academic for review. The reviewer was under no obligation to offer a favorable review.