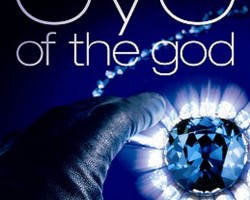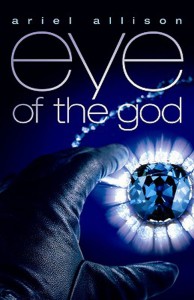 The Hope Diamond, a dazzlingly blue and brilliant diamond of tremendous size and worth, is powerful both for its allure and its infamous curse. Fist time novelist, Ariel Allison spins an intricate web of international intrigue, high-tech crime and romance in Eye of the God.
The diamond leaves a trail of ruined lives detailed in the historical flashbacks throughout the book. For Dr. Abigail Mitchell it becomes an obsession. From the setting of the Smithsonian Institute, the reader is taken on a journey to Brazil, South Africa and Paris, not to mention 17th century India and 18th century France.
While the book is part crime/detective story, part history lesson and part romance, interwoven throughout its pages is a tale of redemption. The main characters overcome personal failures, familial disappointments as they find hope in a new life. Oddly the dark reputation of the Hope Diamond works a breaking of the curse in their lives.
The pace of the book keeps one turning its pages, yet at times the historical flashbacks seem too disconnected from the plot to keep your interest. And while the book promises a Christian angle to the story coming from a Christian publisher and all, its Christian message is extremely subtle. In light of this, the list of discussion questions in the back seems out of place. Still the book delivers a well done plot that will certainly merit reflection and personal contemplation.
The book makes for a good read as long as one understands it won't be overly Christian. It's generally clean throughout, although some sexual innuendo is present. I recommend the book with these reservations.
Pick up a copy of this book at Amazon.com or through Abingdon Press. See an expanded version of this review, with additional content and resources, at CrossFocusedReviews.com.
This book was provided by Abigndon Press for review. The reviewer was under no obligation to offer a favorable review.