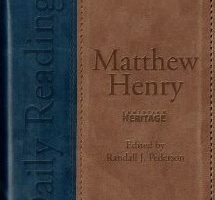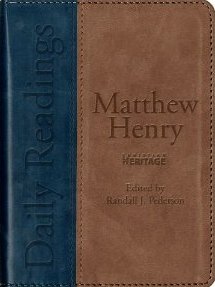 Perhaps no other pastor has bequeathed a greater treasure to the church, than Matthew Henry and his commentary on the entire Bible. Since 1710 his commentary has blessed generations with a clear explanation and devotional treatment of Scripture. His work set the bar for future commentaries with its blend of accessibility, practicality, spiritual warmth and doctrinal depth. It is truly a classic which should continue to endure for years to come.
Charles Spurgeon, the great Baptist preacher from the 19th Century, recommended that ministers read through Henry's 6 volume commentary once a year. Few pastors today have done so. Many churchgoers today, have an abridged Henry on their shelf or access to his entire work in a Bible study computer program or online, but few of them have read significant portions of his work. I must confess myself to be in the number of those who haven't read enough of Matthew Henry.
Randall Peterson has offered a wonderful introduction to Henry's writing, through a selection of daily devotional readings excerpted from his commentary. Matthew Henry: Daily Readings is nicely published and presented in a leather bound, conveniently sized edition, complete with a ribbon bookmark like you would find in most Bibles.
Each reading includes the day's date, a title for the selection, a Scripture verse from the ESV, and at the bottom of the page, the section of Henry's commentary where the selection is to be found. Selections cover the wide range of the Bible with a special emphasis on Psalms.
Henry has a firm grasp of the Gospel and will not lead the believer wrong. An excerpt from his May 21st entry illustrates how challenging this devotional can be:
We know not his riches and our own poverty, therefore we run not to him; we perceive not that we are lost and perishing, therefore a Savior is a word of little relish. Were we convinced of the huge mass of guilt that lies upon us, and the wrath that hangs over us for it, ready to fall upon us, it would be our continual thought, Is the Savior mine? And that we might find him so, we should trample on all that hinders our way to him.
This devotional will not be as easy to read as Our Daily Bread, but its nutritional content will be a balm to your soul. I highly recommend this excellent work which is suitable for a special gift or a lifelong treasure.
Pick up a copy of this book at Amazon.com, Westminster Bookstore, Monergism Books, or directly from Christian Focus Publications.   See an expanded version of this review, with additional content and resources, at CrossFocusedReviews.com.
This book was provided by Christian Focus Publications for review. The reviewer was under no obligation to offer a favorable review.