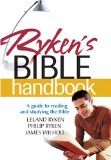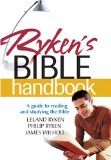 Resources for studying the Bible are a dime a dozen, today.   Every popular pastor or gifted teacher has his own study Bible or commentary set.   Teacher's handbooks, small group study guides, commentaries of all kinds, and big thick dictionaries abound.   Many of these resource tools aren't all that helpful, and some are outdated. Others are too bulky to be accessible, or too compact to be worth one's time.
Enter, Ryken's Bible Handbook (Tyndale).   This handy, manageable volume stands apart in both its convenience and its worth.   A wide variety of helpful material is arranged and presented in an attractive and accessible format.
Following the Bible handbook pattern, the information is arranged book by book through all 66 books of the Bible.   The stress is on how best to read and understand the content of each particular book.   Articles on Bible narratives, wisdom literature, prophecy, parables and more are placed at important positions throughout the handbook.   And the book also cross-references these helpful articles often enough to ensure they remain useful (and not forgotten).
A fact sheet with information about the author, audience and special features of each book sets the stage.   This is followed by an outline and a discussion of literary forms, key characters, doctrines and themes, and tips for reading or teaching the book.   Next the flow of the book is traced so one can catch a sense of the whole.   Interspersed throughout are helpful charts and a collection of quotes from Bible teachers and pastors.   A discussion of the challenges to reading the book, and a guide to applying it are also included.
The handbook excels at keeping things simple yet providing real help.   It manages to remain neutral on most theological controversies, aiming to equip one to read the Biblical book rather than actually teaching a theological position drawn from specific passages.
I found the article on parables to be particularly well done.   That section makes the point that parables hint at something "alongside".   "It is untrue that you can find only one theme or 'point' in a parable.   Most parables employ multiple themes or ideas." (pg. 447)   This emphasis for me is especially important as I've seen other books on reading the Bible stress the opposite, which seems to contradict Christ's own interpretation of parables and leans to heavily on rationalistic scholarship.
Even if you disagree in a few places with the book, that won't take away from it's overall usefulness.   Sunday school teachers, Bible students of all ages, pastors and parents will find this book very helpful.   I heartily recommend it.
See an expanded version of this review, with additional content and resources, at CrossFocusedReviews.com.
This book was provided by Tyndale House Publishers for review. The reviewer was under no obligation to offer a favorable review.