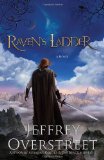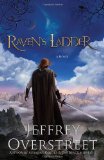 The best fiction transports the reader into the setting of the book. The adventure written becomes an adventure experienced. Characters aren't just described by the author, they are befriended by the reader. This is when reading becomes an engrossing, consuming experience, and books become a work of art rather than a mere production. Jeffrey Overstreet wields this kind of book magic in his "Auralia Thread" series.
Raven's Ladder (book #3) was my first encounter with the series, and as the story developed I felt like I had stepped into a well-developed, alternate world. The members of a fallen House are struggling to survive in a wilderness, and a mysterious danger lurks below ground. A young king believes in childish myths about The Keeper and risks everything to follow his mystical guides. A group of devious seer-types control an economic stronghold where the people worship moon spirits and follow their own pursuits and pleasures wholeheartedly. And a malady which turns men to beasts has destroyed another House and threatens all the land.
The tale is so different it takes a while to feel comfortable in the story. And when you begin to sense the grandeur of the tale, glimpses of connections to Christianity make the tale all the more alluring. Auralia's vivid colors mesmerize all who remember them, and visions of beauty stand out all the more starkly against a pervasive and widespread ugliness. Whispers of The Keeper and the mystery of a long forgotten past make figuring out this world much less easy than it seems.
As the tale progresses, high and low points ebb and flow. The conclusion will leave you begging for more, and wondering what is in store for young King Cal-raven and the other heroes of the book. And after finishing this book, you may feel the urge to read the first two books to enjoy the world Jeffrey Overstreet has created to its fullest extent.
My thanks go out to the Waterbrook Multnomah Publishing Group for providing me a review copy of this book as part of the Raven\'s Ladder / Lady Carliss book blog tour.
You can pick up a copy at Amazon.com or directly from Waterbrook Multnomah. For more information on the book, check out the listing on CrossFocusedReviews.com my new book review site.