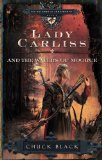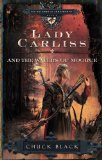 The appeal of fantasy fiction is wrapped up in its other-worldliness. On film, Peter Jackson captured this well in his Lord of the Rings trilogy. Of course, the books themselves are more effective at transporting the reader to another time and place.
In the "Knights of Arrethtrae" series, Chuck Black takes the grand Biblical story of redemption and crafts an allegorical, fictitious world to match it. Following John Bunyan's Pilgrim's Progress legacy, Black interweaves Christian themes into his fantasy tale.
The series is based on his earlier 6 part Kingdom series, and offers vignettes of followers of the King across the Sea. "The King reigns and his Son!" is the rallying cry of the Prince's Knights in the Kingdom of Arrethtrae. Shadow Warriors and evil knights battle Silent Warriors and the Prince's knights, in a battle for the souls of men.
In Lady Carliss, we find a fascinating tale of treachery, deceit, a dark plot and mystery. Carliss battles more than just the dark forces, as she must master her heart and its attraction to her brother's best friend Lord Dalton. Along the way, she faces the dreadful choice of saving the life of one she can't help but love, or saving the lives of friends who count on her.
At the end of the book, a discussion guide is included with pointed questions about the allegory and the story, chapter by chapter. The peril of a pleasure-inducing substance that sends people into an alternate reality provides a platform for addressing the problem of escapism in today's world. The questions also come with answers and make this book, and the ohters in the "Knights of Arrethtrae" series, ideal for parents to read with their teens, or for youth groups to read together in a church-based book club.
The story moves along at a fast clip and includes surprising twists and turns. The style is straightforward and action-oriented, suitable for teen-age readers and a shorter sized fantasy book. The allegory is at times very direct, and detailed descriptions of the meaning are included at the end. Still the story stands on its own right, and entering the world Black creates is both enjoyable and instructive.
The meta-narrative or grand story of the Bible is indeed alluring. We need to remind ourselves that an alternate reality has nothing on the redemptive plan of our Savior. We, like Carliss, need to learn to trust the Prince and follow him in spite of our feelings and uncertainties. And our Lord will prove True and Faithful, every time.
My thanks go out to the Waterbrook Multnomah Publishing Group for providing me a review copy of this book as part of the Raven's Ladder / Lady Carliss book blog tour.
You can pick up a copy at Amazon.com or directly from Waterbrook Multnomah. For more information on the book, check out the listing on CrossFocusedReviews.com my new book review site.