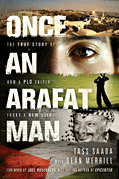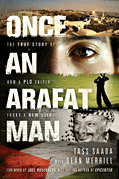 Once an Arafat Man: The True Story of How a PLO Sniper Found a New Life is a fascinating read.   As the title indicates, this is a true story of a former Fatah fighter.   Tass Saada was born in a Palestinian refugee camp in the Gaza strip.   His parents left their land in Israel at the encouragement of the neighboring Muslim countries.   After the failure of the 1948 war, they (with many others) were displaced.   He grew up in Saudi Arabia and later Qatar.
Saada, like many young frustrated Palestinians, grew to respect Yasir Arafat and his rhetoric about Palestinians standing up for their rights.   He fled from his home and joined the movement in its infancy.   As a teenager he became a sniper and fought in many terrorist skirmishes.
Eventually his father's influence brought him back out of the Fatah, just before Black September's chaos, and he wound up ultimately in America.   There for many years he succeeded in business and lived the American dream, with its money, prestige and also its sinful vices.   Then he met Jesus, and the rest is history!
His story of conversion is amazing, and the transformation in his life and family is dramatic.   God had his hand on this man and eventually he became the founder of Hope for Ishmael a non-profit organization that aims to reconcile Jews and Muslims, and that also aids the many Palestinians caught in the crossfire of the Middle-East conflict.     God took Tass from being a one-time chauffeur to Arafat, and allowed him to share the Gospel with the Muslim leader in the final years of his life.
Saada's story is a celebration of God's grace.   Along the way, Saada has some wise Gospel words to speak about the Middle-East conflict.   He finds the Bible's honorable treatment of Hagar and Ishmael to have special significance in our understanding of this conflict.   He also stresses God's promise in Ez. 47: 21-23 that "the aliens [foreigners] who have settled among you and who have children… along with you they are to be allotted an inheritance among the tribes of Israel." (NIV)
His story will also challenge you to see God's hand at work in your own life.   This book will open your heart to the suffering of the Middle-East and give hope!   I highly recommend this quick read.   May Jesus be exalted in the Middle East!
My thanks go out to Tyndale House Publishers for providing me with this review copy as part of the Tyndale Blog Network.
You can pick up a copy of this book direct from Tyndale House or from Amazon.com.