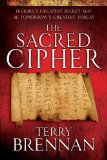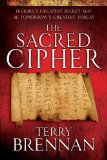 The Sacred Cipher by Terry Brennan, was my first jaunt into the genre of Biblical archeological fiction. The classic example, I'm told, is Paul Maier's A Skeleton in God's Closet. As a \"Bible geek\", who enjoys studying biblical languages and following the history of Biblical texts, I thoroughly enjoyed this work. It's hard to believe that this is truly Brennan's first novel.
The story centers on a discovery, in an old New York mission building of an ancient scroll written in an unknown script. Tom Bohannon, the director of the Bowery Mission, gets swept up in the effort to decipher the mysterious scroll. Drawing on his journalistic background and his connections within academia, Tom begins to unravel the scroll's secrets. Along the way it becomes more and more obvious that others are interested in the scroll, and they will do anything to possess it.
The fast-paced plot will keep you on the edge of your seat, as the story takes you from New York to Jerusalem and beyond. Along the way you'll discover mountain hideouts and underground caverns, secret rooms and secret messages, ancient tunnels and very contemporary security measures. The book holds something for the average fiction reader, but especially thrills the arm-chair archeologist. Anyone interested in ancient languages and historical puzzles will be intrigued by Brennan's well-researched adventure.
When the story moves to Jerusalem, the scroll's secrets threaten to undue the fragile peace of the region. When you pick up this book, you too won't have any peace until you finish it! It's that good!
Terry Brennan has had an extensive career in journalism, winning several awards, including the Valley Forge Award for editorial writing from the Freedoms Foundation.   Terry served eleven years as the vice president of operations for the Bowery Mission in New York City and is currently a management consultant.   You can learn more about Terry and his writing at terrybrennan.blogspot.com.
My thanks go out to Leslie Paladino of Kregel Publishers for furnishing me with a review copy of this book, at my request.