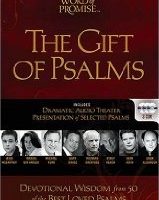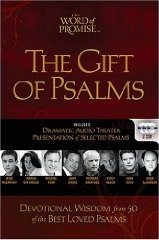 Thomas Nelson, published this delightful devotional.   The Gift of Psalms, is a book printed on special paper and with a deluxe smooth leather-ish cover.   Included are three audio CDs with a reading from The Word of Promise Audio Bible coupled with a reading of the devotional thought from the book for that particular psalm.
The Word of Promise readings are from the New King James Version, which has a majestic quality about it when read aloud.   The readings are done by various actors such as Sean Astin, Richard Dreyfuss, Joan Allen, and a variety of other names.   The quality of the recordings are excellent, with some background majestic sounding classical music.
In the book, one page includes an excerpt from the psalm for that day, and the opposite page contains Lori Jones' devotional.   The devotionals focus on the theme found in the psalm for that day, but don't hesitate to reference other Scriptures.   At the end of each devotional is a short prayer in response to the reading.
The CDs include the entire Psalm, not just an excerpt, and fit nicely into the back cover of the book, in special slots.   The book covers 50 Psalms, while the CDs cover 30.   Even so, the book would make a great companion to a personal reading through the Psalms.
The only thing the book really lacks is a nice bookmark similar to what one would find in a Bible.   It seems like it cries out for something like that, with each page being so glossy and thick, and with the fine finish.
This book is an excellent gift book, and I enjoyed reading it.   My thanks go out to Thomas Nelson, for providing me with a copy of this book.   I'm planning on making   my copy a gift, soon.   You can get your own, at Amazon.com.