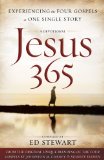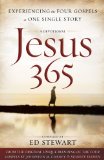 In the second century after Christ, the Diatessaron was a popular Christian book which took the four Gospels and combined them into one single story of Christ.   This year, I've been reading a fascinating devotional book based on the same principle, Jesus 365, A Devotional: Experiencing the Four Gospels as One Single Story compiled by Ed Stewart (Harvest House).   If you've been a Christian long enough, you've probably seen a Harmony of the Gospels.   This book, takes that idea of a harmony to another level.   The four Gospel accounts are carefully blended into one continuous narrative.
The book is a daily devotional, with 365 separate readings, each with a memorable or devotional quote at the bottom of the page.   Each day's reading also includes the Biblical references which are used for that selection.   Sprinkled throughout the book are occasional explanations of the editorial decisions made regarding the chronology of this harmony as well as brief descriptions of Jewish feasts, tax collectors and other details about the life and times of Jesus.
The book advocates a unique position on the length of Christ's ministry, opting for a four year ministry rather than the traditional three year view.   A detailed defense of a four year ministry is included in the book.
Each day's reading is given a number rather than a date.   This makes it easy to just read through as a story rather than only one page a day, like a typical devotional.   When reading more than a page at the time, I find myself skipping the devotional thoughts to pay attention more to the Biblical accounts of Christ.
This book certainly shouldn't replace a careful reading of each of the four Gospels.   God gave us four accounts of Christ, not one.   However, there is still much devotional benefit in reading the full story together in one book.   The early Christians prized their Diatessaron, and you will prize this book too.   It may open your eyes to a clearer view of Jesus' glory.   If you plan far ahead for Christmas, this would make a great gift.   You can pick up a copy from Amazon.com.
My thanks go out to Harvest House Publishers, for providing me with a copy of this book.