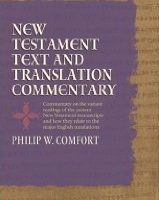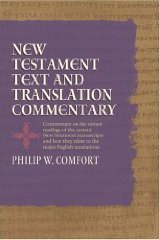 Author: Philip W. Comfort
Format: Hardcover
Page Count: 899
Publisher: Tyndale House
Publication Date: 2008
ISBN: 9781414310343
Rating: 5 of 5 stars
My thanks go out to Christy Wong at Tyndale House Publishers for supplying me with a review copy of Philip Comfort's New Testament Text and Translation Commentary.
I have always been intrigued by textual criticism and the study of how we got our Bible. The Bibles we have today are the descendants of hand written manuscripts, written on papyri, vellum or paper, and in either large (uncial) or small (miniscule) letters. Those manuscripts were written originally in Hebrew, Greek or Aramaic, and later translated into Latin, Syriac, Coptic, Armenian, and other languages. Today we have English Bibles finely produced from the magic of printing presses and publishing houses. But how can we know that these Bibles accurately represent what was originally written? This is where textual criticism comes in \"" a highly disputed field, especially in today's skeptical age. Textual scholars referred to as critics, take the time to compare all the hand written manuscripts that have been preserved down to our day. Using various methods of comparing, contrasting and evaluating the readings of numerous manuscripts (over 5700 for the NT!), they help guide today's church in deciding which textual variants are the likely original readings.
Philip Comfort is one of these scholars, and he has provided a fabulous resource for Bible scholars, pastors, and others to study the textual data on all the 3,000 or so places in the New Testament where we find textual variants that may affect the Bible translations we have in our hands. Comfort focuses primarily on the variants which result in differences between the various English Bible versions in use today (KJV, NKJV, NASB, NIV, ESV, HCSB, NLT, TNIV, NRSV, etc.). He also highlights some of the intriguing variants and places where the Western family of manuscripts often expands the text. What makes Comfort's work so especially valuable is that his discussion is all in English! He discusses the Greek and other languages, but is mindful of the non-technical, English speaking reader. This makes New Testament Text and Translation Commentary (NTTTC) very accessible, opening up the intricacies of textual critical studies to the average Bible student.
While Comfort may not include all the textual data accessible to scholars in the UBS4 or NA27 Greek texts and other scholarly resources, he does format his work and provide relevant information in a much more user-friendly format. In places where there are two or more variants that have affected the English Bibles, Comfort will first give each variant reading in Greek and English, then he lists the Greek manuscripts and other supports for each variant, and he also adds which English Bibles follow that variant in their text or margin. Following all of this, he offers a brief discussion of that particular variant, taking us step by step through how a conservative, evangelical scholar will assess this textual evidence to arrive at a conclusion concerning this particular reading.
This detailed analysis of each major variant in the Greek New Testament makes up the bulk of the book and provides an easy to look up reference for practically any passage where one might encounter a variant. Comfort also provides a brief overview of textual criticism and a very interesting assessment of the major textual witnesses for each section of the New Testament. He displays an extensive understanding of the papyri manuscripts in particular as well as the history of textual criticism and all the relevant data. A few appendices are also included for more specialized discussions.
NTTTC doesn't stick to strictly textual critical matters. In Mk. 7:3 a discussion of manners and customs of Bible times is required to understand the Greek phrase \"wash their hands with a fist\". Exegetical matters are also addressed, such as in the conservative and delicate handling of the variant at 1 Cor. 14:34-35. NTTTC's format makes difficult and highly technical discussions much easier. When discussing the ending of Mark, he helpfully lays out all 5 variations of the ending providing a few pages of discussion. At Acts 20:28 he discusses two variants together, by first delineating all the various combinations of the two variants, and helpfully summarizing the options and discussing each option in light of exegetical matters as well.
The discussions in NTTTC prove enlightening. One learns the importance of understanding the patterns of particular scribes when discussing variants such as Luke 24:3 where Comfort explains why Wescott and Hort were wrong. The major passages like the ending of Mark and John 7:53-8:11 are covered in depth. Comfort is honest about some variants being driven by theological considerations, such as in Heb. 2:9. Interestingly, the theological bias in textual variants was almost always rejected by the church in days of old as well as today.
One excerpt of this work will serve to illustrate its value well. Regarding Jude 4, Comfort states:
The reading in TR, poorly attested, is probably an attempt to avoid calling Jesus δεσποτήν (\"Master\"), when this title is usually ascribed to God (Luke 2:29; Acts 4:24; Rev. 6:10). Hence, θεος (\"God\") was appended to δεσποτήν. However, 2 Pet. 2:1, a parallel passage, identifies the redeemer, Jesus Christ, as the δεσποτήν. So here also the WH NU reading, which is extremely well documented, shows that Jude considered Jesus to be the absolute sovereign.
As one well attuned to the issues relating to King James Onlyism, I found this volume especially helpful. 26 times I found a KJV reading to be supported by no Greek manuscripts. Western additions such as \"full of the Holy Spirit\" at Acts 15:32 and \"Jesus\" at Acts 17:31 reveal that \"omissions\" are in the eye of the beholder. Does the TR omit these important phrases or the Western texts add them? It was through my KJV Onlyism debate lenses that I discovered a few minor errors in Comfort's text. He wrongly claims the KJV followed Stephanus' 1550 TR (along with the WH/ NU modern Greek Text) at Rev. 16:5 when in fact they followed Beza's conjectural emendation \"and shall be\" instead of \"holy one\". He also seems to state that a variant at Rom. 7:6 was introduced by Elzevirs' TR and then later adopted by the KJV, however the KJV was translated 22 years prior to the Elzevirs' work. The reading in question was introduced by Beza in one of his editions used by the KJV translators. Also at Luke 2:38 he lists the Vulgate as the sole support for the KJV reading, but Robinson-Pierpont's Majority Text edition includes the KJV reading \"Lord\".
I would have liked Comfort to address more passages relevant to the KJV Only debate. It would have been great if he had mentioned which variants the printed Greek Majority Text's of Hodges-Farstad or Robinson-Pierpont adopted as well. But space constraints are totally understandable. I also wish he had somehow indicated if the manuscript listings given for a particular passage are complete or not. If more evidence is available (or not) for a given variant, it would be nice to know. Perhaps using an asterisk when all the known witnesses to a variant were listed would help.
All in all, I can't recommend Comfort's work more highly. This is an important volume and I will be referring to it often in years to come.
You will want to pick up a copy of this book at Amazon.com or some other retailer!
This review is available in .pdf format over at CrossFocusedReviews.com.