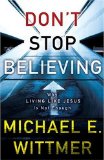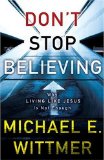 Authors: Michael E. Wittmer
Format: Soft cover
Page Count: 230
Publisher: Zondervan
Publication Date: 2008
ISBN: 9780310281160
Rating: 5 of 5 stars
Many thanks to Zondervan for providing me a review copy of this book, and inviting me to participate in this book's blog tour (details at Koinonia).
I'm guessing that many who will read this review will be younger evangelicals who are aware of the Emerging Church movement. Many are intrigued with the idea of doing church differently. We've awakened to inadequacies in the church our parents raised us in. For people like us, the generational appeal of the Emergent movement is strong. Polarizing doctrines along with the conservative-liberal divide turn us off. A welcoming community of large-hearted lovers of Jesus sounds both authentic and attractive.
This desire for authentic Christian fellowship is not wrong by itself. Doing church in new and tantalizingly different ways isn't either. Luther, Wesley and Moody attest to that. Yet the newness of the Emergent movement is often all that is needed for it to earn sharp and stinging conservative rebukes. Such smug dismissals only prove the point of these \"postmodern innovators\", as Michael Wittmer dubs them. Conservative Christians today are infected with a rampant modernism that assumes it has arrived. With everything figured out, conservative Christianity has no room for postmodern Emergent craziness.
Put me down as one conservative who doesn't think we're above criticism. I tend to see the Emergent movement as reacting against some very real deficiencies in some versions of conservative Christianity. Before reading Don't Stop Believing: Why Living Like Jesus Is Not Enough, I wouldn't have been able to articulate all of this exactly. I couldn't put my finger on exactly what it was that seemed right about the Emergent phenomenon. With Michael Wittmer's book, however, I'm much more equipped to think through the all the ramifications of the postmodern innovations so popular today.
Wittmer isn't afraid to listen to the postmodern innovators. Listen and learn. From what I can gather from reading the book, Wittmer hails from a staunchly conservative background. I wouldn't be surprised if he is intimately familiar with independent Baptist fundamentalism like I am. From such a background it is easy to see how many of the Emergent criticisms would hit home.
Postmoderns claim we conservatives often love the sinner's soul more than his body. We aim for conversions more than lasting social change. We care more about deathbed conversions than good works and justice. Our churches are not welcoming and inviting to the unchurched, and our world-view comes off too cocky and self-confident. We have everything figured out and don't struggle with doubt or pain. We care more about scientific and logical proofs for inerrancy than we do for the Bible's overarching themes and meta narrative. We're too quick to distance ourselves from the world than be friends to publicans and sinners.
There's more. Must you believe something to be saved? Are people good or bad? Is Homosexuality acceptable biblically? Doesn't penal substitution turn the cross into divine child abuse? Does Hell really last forever, and would a loving God really send anyone there? Is it really possible to know anything for certain? These questions and more are raised, and carefully dealt with in Wittmer's book.
As one can see, with the Emergent movement, valid criticisms and sincere questions often get muddled together with a more radical revision of the fundamentals of the faith. In light of how many postmodern innovators are quick to embrace full fledged inclusivism (the idea that people will likely be saved apart from faith in Jesus Christ), and their lack of owning up to virtually any non-negotiable beliefs, it is easy to see why many dismiss the movement as a whole, out of hand.
The strength of Wittmer's approach lies in his patient hearing out of both sides. He sketches the conservative view and the postmodern reaction. Then he paves a middle ground that holds to a high (conservative) view of Scripture while appreciating insights from the postmodern position. He argues for a both/and approach which often does more justice to the Bible than either extreme. While he ends up defending conservative doctrines, he is not afraid to challenge conservative methods and motifs.
Such a discussion could easily become tedious and overly philosophical or theological. Wittmer's writing style is so clear and lucid that with the help of illustrations and personal anecdotes, he makes the discussion fun to read. His many charts help convey his point even more clearly. The diagrams capture the discussions well, summarizing the perspectives of each side along with his middle ground approach.
Postmodern innovators and Emergent church leaders are not likely to change course as a result of this book. What I hope happens, is many a young evangelical is equipped and encouraged to opt for a conservative Christian approach that aims to both believe and live life here on earth well. As Wittmer puts it: \"Genuine Christians never stop serving because they never stop loving, and they never stop loving because they never stop believing.\"
If you are looking for a helpful introduction to the postmodern/Emergent church discussion, look no further than Don't Stop Believing. And if you are concerned for a friend, or even for yourself, about the doctrine-is-optional appeal of postmodernism, pick up this book. You will be challenged, and encouraged in the faith.
This review is also available in pdf format over at CrossFocusedReviews.com.