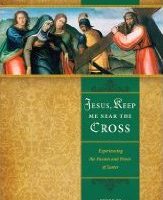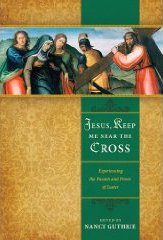 Author: Compilation of several authors, edited by Nancy Guthrie
Format: Softcover
Page Count: 148
Publisher: Crossway
Publication Date: 2009
ISBN: 1433501813
Rating: 5 of 5 stars
As we approach Easter, Christians everywhere remember Christ's sufferings on the old, rugged cross and the triumph of his resurrection. Indeed, the symbol of the cross is one of the few near universal Christian symbols. Protestants, Catholics and those who view themselves as neither, still cling to the cross. The gospel depends on it, Jesus' earthly life is shaped by it, the Four Gospels almost speak of nothing else. Salvation depends on it, and sanctification is fed by it. And with Paul, we all should seek to boast in nothing but the cross or our Lord Jesus Christ.
For this reason I was thrilled at the opportunity to review a book like Nancy Guthrie's Jesus, Keep Me Near the Cross: Experiencing the Passion and Power of Easter (Crossway). I assumed it would be a good read since it is a compilation of several prominent church leaders, contemporary (Tim Keller, John Piper, Ligon Duncan, Phil Ryken and John MacArthur) and from years past (Augustine, Luther, Calvin, J.C. Ryle and Charles Spurgeon). Yet, the book excelled far beyond my expectations, high though they were.
Nancy Guthrie did a phenomenal editing job in piecing together various meditations on the Cross into a wonderfully unified book. And the selections she chose were truly the best of the best that these authors had to offer. Finding each of these was an amazing accomplishment in its own right.
Here's a small sampling of the topics covered in this small volume. Martin Luther challenges us to find a proper view of self in light of the Cross. Alistair Begg ponders the innocent Christ being crushed by God. C.J. Mahaney unpacks the weightiness of the cup that Jesus chose to drink completely for us. R. Kent Hughes shows the Biblical theological background to the symbolism inherent in Jesus' betrayal in the garden at Gethsemane. Spurgeon marvels that the Lord of the Universe allowed sinners to spit in his face, and he chillingly shows that we too have tragically spit in his face. J.C. Ryle wants us to find ourselves in the Sufferings of Christ. Martyn Lloyd-Jones focuses on Christ's destruction of the Devil. John Calvin points out the connection between the Passover Lamb and Christ as shown in the blood and water flowing from his side. Jonathan Edwards shows Christ's sacrifice as not merely satisfying God's wrath, but accruing merit in that it was a sweet smelling, acceptable offering to God. Tim Keller explains how resurrection power should transform our lives.
In all of this, our focus should not be on the human authors Nancy compiles. Rather each are gifted with the ability and graced with the desire to show forth Christ in all His beauty and glory. And such a feast, an extended meditation on our Savior, Jesus Christ, is appropriate not merely for Easter and Passion Week, but all the year, and all the days of our life, long.
I encourage you to pick up a copy of this fantastic book, start it this Easter and let the message of the Cross grip your heart in the weeks following. This will surely be a devotional book I'll pick up again and again.
My thanks go out to Angie Cheatham of Crossway for providing me with a review copy of this thoughtful book. You can order your copy at Amazon.com, or support a Christian bookseller by ordering it through Monergism Books or Westminster Bookstore.
Stay tuned as I'll post several selections from this book during the week preceding Easter (which is next week!).
This review is also available in pdf format at CrossFocusedReviews.com.