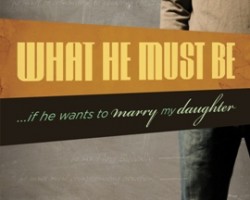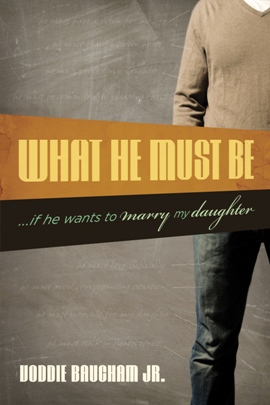 In What He Must Be …If He Wants to Marry My Daughter Voddie Baucham Jr. does Christian dads a favor.   He challenges them with a biblical vision of Christian courtship; and he cushions his challenge with a clear cut, easy to read, guide for how to think and plan about their daughter's future marriage.
Baucham realizes his message is as controversial as it is straightforward.   Our culture prejudices us to an overly romantic idea regarding marriage.   While parents feel freedom to guide and support their children in college and career choices, they are pressured to back off when it comes to their teenager's love life.   Against this cultural backdrop, Baucham traces out a biblical vision of courtship, calling on dads and moms to think carefully about this aspect of their children's future.
Baucham considers "modern dating" to be "no more than glorified divorce practice."   He counsels protecting a daughter's heart as much as her body.   This entails thinking intentionally about the kind of man one would want for their daughter.   Parents train their daughters to look for such a man, and are partners with her in the entire process.
The bulk of the book concerns the qualities of a suitable Christian man.   And sadly such men, according to the author's frank admission, are in short supply.   No worry, if you "can't find one… build one"!   If you can't find a man who is a follower of Christ, prepared to lead like Christ, who is committed to a biblical view of children, and who can be your daughter's protector, provider, prophet and priest… then you must find a promising young man and disciple him (or build him) yourself.
Counter-cultural and radical?   Yes.   Unthinkable?   No.   Baucham carefully builds his vision of Christ-centered family life, making it increasingly clear as he progresses.   The Bible is brought to bear on topics many Christians don't take time to consider well.   And Baucham's warm, personable and very readable style aid him in transmitting his message effectively.
One may not be ready to follow all points of the author's plan, after reading the book through.   But a careful reading of Baucham's message will certainly change anyone's perspective on the extremely high calling of parenthood.   I urge everyone to consider picking up this book, and let Voddie Baucham Jr. walk you through a biblical view of courtship.   And may God be pleased to provide our sons and daughters godly spouses for His glory and their joy.
You can order this book at Amazon.com, or support these Christian booksellers: Westminster Bookstore & Monergism Books.
Stay tuned for details on an upcoming giveaway of 2 free copies of this book, compliments of Crossway Publishers.   Read more reviews and excerpts of this book at Crossway's blog book tour, now through the end of this week.