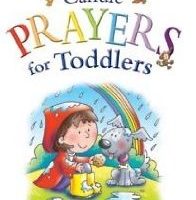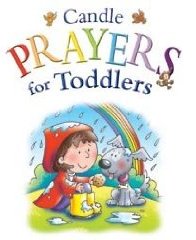 Authors: Juliet David, illustrations by Helen Prole
Format: Hardcover
Page Count: 128
Publisher: Candle Books (distributed in the US by Kregel)
Publication Date: 2008
ISBN: 0825472016
Rating: 4 of 5 stars
There are many books for toddlers these days. Few are designed to teach them how to pray. Candle Prayers for Toddlers collects a wide assortment of prayers arranged by topic, and geared for tiny hearts. Topics include: Good Morning, Meal-times, Prayer time, Today, Me, Myself and I, All the People I love, Sorry, All things bright and beautiful, Extra-special days, Thank-you, Sweet Dreams, and While we Sleep.
With beautiful, eye catching illustrations, the simple message of this book comes through. Even a toddler, going about his or her daily life, can pray to God about everything.
Thanks for food and friends, for the day's fun. Prayers for help and protection at day's end. Prayers that rhyme, prayers that sing; and prayers borrowed from historical figures of ages past. This book has them all.
Some of the prayers may seem so simple they are trite. But the goal of the book is to introduce the concept of prayer to tiny minds and hearts. Whether your young one memorizes some of these prayers, or just hears them read so often they become part of the child, he or she is sure to benefit from this book. The diligent parent can use it to teach off the page, encouraging their toddler to see how prayer can be a part of each activity in life.
Aiming to direct the hearts of children to their Lord is a laudable goal. Juliet David and Helen Prole succeed in offering us a simple, fun, light-hearted book that can be a valuable tool in a Christian parent's arsenal.
My thanks go out to Kregel Publishers for providing me with a review copy of this delightful book. You can pick up a copy of this book or see additional titles by Juliet David at Amazon.com.
This review is also available in pdf format at CrossFocusedReviews.com.