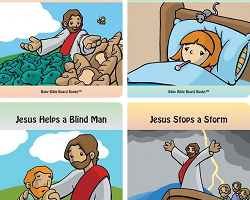 Authors: Edward & Sarah Bolme (Illustrated by Tim Gillette)
Format: Child's Board Book
Page Count: 20/per book
Publisher: Crest Publications
Publication Date: 2003
ISBN: 0972554645
Rating: 5 of 5 stars
This collection of children's bible story board books is absolutely charming. The pictures are bright and cute. The stories are simple and on a young child's level. The book proves durable and is easy for little fingers to hold. Best of all, the Bible stories are told in a simple yet very relevant way.
As the father of four little girls (the oldest is in Kindergarten), I've seen many a Christian themed kid's book. Many of them bend the Biblical text too much for my tastes. Some water down the message to the point I can't share them with my children. These books, written by Edward and Sarah Bolme, not only pass my parental eye, but they are treasured by my girls as well. (I can't keep them on my desk to review, without my girls taking them back and using them!)
Each book focuses on a specific Bible story, and includes the specific Biblical reference on the back cover. With just a few words per page, each story is told at a child's level. The pictures include cute pets or other kid-friendly embellishments, but the story stays true to the text. What's best with these stories is how the last page applies the story's lesson to the child's experience. These are not moral lessons about how to act, rather teach about who God is and how we can trust Him in our lives. A Bible verse is included with the application as well.
The four books cover the following stories. Jesus Stops a Storm — which means Jesus keeps us safe, as well. Jesus Heals a Little Girl — so Jesus makes us well, too. Jesus Helps a Blind Man — and He takes good care of us. And then Jesus Feeds the People — even as God gives us good food, too. These applications are at a child's level, and there is ample opportunity to add additional teaching as you read the book with your child.
The artwork is professional, and very attractive to children ages 1-3 (whom the books are geared toward) and even older. Crest Publications offers a pdf sample of Jesus Feeds the People.
I really can't rate these books high enough.   You can find more information about the books at Crest Publications, and you can order them there or through Amazon.com.
This review is also available in pdf format at CrossFocusedReviews.com.