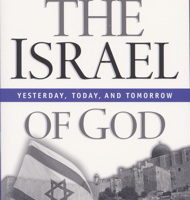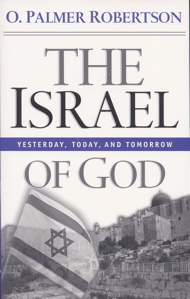 Author: O. Palmer Robertson
Format: Softcover
Page Count: 196
Publisher: Presbyterian & Reformed
Publication Date: 2000
ISBN: 0875523989
Rating: 5 of 5 stars
Like most any American evangelical, how the Bible views the modern state of Israel is a topic that interests me. I've grown in my understanding of this issue, even as I've evaluated competing theological systems such as dispensationalism and covenant theology. For me, the Bible is most important, as I don't feel compelled to be loyal to any particular theological system.
Perhaps that is why O. Palmer Robertson's writings have been so helpful to me. I greatly appreciated his Biblical treatment of the various covenants of Scripture in The Christ of the Covenants (see my review). In The Israel of God: Yesterday, Today and Tomorrow, Robertson far exceeded my expectations.
Robertson doesn't have to convince anyone that interpretations concerning the Bible's view of Israel are varied and extremely influential. In his book, though, he manages to bring the focus to where it should be: on what Scripture actually says concerning the topic.
And this is where he excels. He doesn't settle for a few proof texts. Rather he carefully traces out a Biblical theology of the land, the people Israel, their worship and lifestyle, and the Kingdom as it relates to Israel. He offers a careful exposition of Galatians 6:16, Hebrews 7, and Romans 11. All the while, he examines Scripture's entire testimony on these subjects letting all of Scripture weigh in on this issue.
The book shows how the essence of the land promise was spiritual fellowship with God. This is enjoyed by the church today (Matt. 5:5, Rom. 4:13, Eph. 6:3). It argues that the worship and lifestyle of Israel is radically altered with Christ's provision of a better covenant (Heb. 7). It goes on to examine how Scripture defines the people of Israel, and it details how Gentile believers in the church are Abraham's children and heirs, true Jews, yes, even the Israel of God (Gal. 3:26-29, 6:16; Rom. 2:28-29, 4:11-12; Eph. 2:14, 19).
One may well disagree with Robertson's conclusions. But anyone who cares about Scripture will appreciate his emphasis on letting Scripture speak for itself. I would hope those differing with Robertson would at least give his Biblical presentation fair consideration. His exposition of Romans 11 in particular has the potential of changing the mind of many on this subject. Not because it is novel, but because he shows how clearly the chapter as a whole argues for a present-day focus in Paul's concern.
I won't explain all of Robertson's arguments for you. I encourage you to pick up a copy of the book yourself. Its a fairly quick read (196 pages), which will definitely keep your interest. I'm sure you'll be glad you gave this book a hearing.
Pick up this book and lend support to the following Christian bookstores: Monergism Books and Westminster Bookstore.   Feel free to compare their prices, too with Amazon.com.
For more on the covenant theology vs. dispensationalism discussion, see my blog posts related to this issue.   You may also be interested in my series entitled "Understanding the Land Promise".
This review is also available in pdf format at CrossFocusedReviews.com.