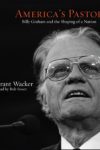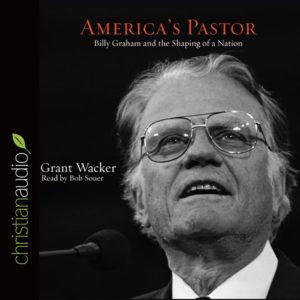 Billy Graham passed away this week at the ripe old age of 99. He had been withdrawn from public life for quite a number of years now, giving his last sermon by video five years ago. It has been more than 12 years since his last evangelistic crusade. Gone are the days where crowds would flock to hear this giant of a man and his addresses would be telecast on live TV. Now an entire generation of Christians has grown up largely unfamiliar with Graham and his ministry.
The occasion of his death offers many of us a good reason to remind ourselves of Graham's significance. There are a number of good biographies on Graham and a wealth of resources for studying his unique impact on American Christianity and Culture at large, and Christianity Today has a commemorative magazine edition – with an interactive webpage to go with it.
A few years ago I listened to an audio book from ChristianAudio.com that I want to recommend as a helpful introduction to those who may not be fully aware of the impact Billy Graham has had on our nation. Wacker's book is not exactly a biography, and Wacker himself is a self-proclaimed evangelical who sides with Graham on a number of his positions. The book instead walks through Graham's life and evaluates what it was that made him great. It asks who exactly was this man?
The chapters explore different aspects of Graham: his roles of preacher, icon, Southerner, entrepreneur, architect, pilgrim, pastor, and patriarch. The ethos of Graham's ministry amid the backdrop of the cultural and social nature of the day are stressed. A lot of time is devoted to Graham's interaction with the presidents and his own angst at Nixon's fall. Also highlighted is the key role that Graham played, early on, in helping the civil rights movement in the 50s — including his asking Martin Luther King Jr. to pray at his 1957 New York Madison Square Gardens Crusade. Some argue that Graham could have done more on this issue and others, and Walker explores the ins and outs of that debate and situates Graham within the context of his time as a one who moved the needle in positive ways.
Wacker highlights controversial points of Graham's legacy, too. He explores Graham's departure from American fundamentalism and his creation of a moderate position (which became known as new evangelicalism, and which is spawned the Evangelicalism most prevalent today). He pinpoints a bizarre interview with Robert Schuler, and presses into what Graham may have really believed about inerrancy and other doctrinal questions. He spent time on some newly discovered disparaging marks Graham made toward Jews in the oval office – and what that says (and doesn't) about his character. Overall Wacker paints a portrait of Graham that is rich and colorful, and yet reveals a simple and true-hearted man, who honestly attempted to introduce as many people as possible to the life-giving message of the Gospel of Jesus Christ by whatever means were at his disposal.
The final part of the book includes Wacker's own accounts of his interviews with the aged Graham, and his attempt to size up the real Graham. The aged evangelist exuded a warm humility that appealed to Wacker, and which appealed to so many throughout his decades of public ministry.
The audiobook version of this book is easy to listen to: the narrator reads in a matter of fact voice, but not with an emotional poignance that can at time distract. The format may make it an easy way to reflect on Graham and evangelical history amid the pressures of today's modern world. I highly recommend this title.
Book Blurbs:
"Excellent… It is not a biography, but rather a disciplined, admirably fair-minded effort to understand and explain how 20th-century American culture produced a figure like Billy Graham, and how Graham in turn helped to shape that same culture." — Robert P. George, Professor of Jurisprudence and Director of the James Madison Program in American Ideals and Institutions at Princeton University
"A striking and authoritative account of one of the most influential Americans of recent times. Wacker writes gracefully and offers a fund of astute insights. By exploring Graham's background, his character, his beliefs, and his work, he reveals how Graham could move so comfortably among the powerful and at the same time always be able to speak effectively to so many ordinary people. Both Graham's admirers and his critics will come away from America's Pastor with a fresh appreciation of the man and his world." — George M. Marsden, author of The Twilight of the American Enlightenment: The 1950s and the Crisis of Liberal Belief
"Grant Wacker has given us a superb―and richly detailed―portrait of Billy Graham, presented in the context of a solid cultural and historical analysis of the era in which Graham served as the kind of religious leader we are not likely to see again. And all of this from a marvelous storyteller. Wacker's deeply moving epilogue can stand alone as a model of inspiring prose!" — Richard J. Mouw, Professor of Faith and Public Life and former President, Fuller Theological Seminary
Where to Buy:
Pick up a copy of this book at any of the following online retailers: Amazon, ChristianBook.com, or direct from ChristianAudio.com or Harvard University Press.
Disclaimer:
This book was provided by ChristianAudio.com. The reviewer was under no obligation to offer a positive review.
About Book Briefs: Book Briefs are book notes, or short-form book reviews. They are my informed evaluation of a book, but stop short of being a full-length book review.